Omaha Regional Interoperability Network (ORION)
Important Note
Some talkgroups on this system are using Project 25 Phase II TDMA modulation which can ONLY be monitored using a P25 Phase II compatible scanner.
Please visit the
RR Wiki Project 25 page
for additional information.
System ID List

| System ID | WACN |
| --- | --- |
| HEX: 144 | BEE00 |
News Update Posted on 2016-11-16 14:03:42
Fremont Police have joined the ORION system. Currently one talkgroup is reported to be APCO25 Phase 2 and is operating as part of the Washington County Simulcast site.

On any submissions to the database, please note if the talkgroup is Phase 1 or Phase 2 as this will have a difference on scanning and decoding for Phase 2 capable scanners.
News Update Posted on 2009-07-11 11:31:52
The first site of the Nebraska Wireless Interoperable Network (N-WIN), is now online in Mitchell, Nebraska. Apparently, they are using the same system ID, and connect tone as the ORION TRS. Moreover, information has been gathered that indicates this will be one very large wide-area trunked system, eventually covering the state primarily on VHF-High band, but the Omaha area will be on 700/800 MHz. Likewise, each all of the radios, regardless of what band they use will share common talkgroups. Therefore, both systems will be merged together as one here on the Web site.
News Update Posted on 2005-12-03 14:23:16
The city of Council Bluffs and Pottawattamie County, Iowa, have signed a contract with Douglas County, and the city of Omaha, to build a regional Project 25, IP communications network. This expanded system will greatly enhance public safety communications throughout the city of Council Bluffs and Pottawattamie County, as current plans call for the construction of a seven-site simulcast 700/800 MHz trunked radio system. Moreover, the same system will be expanded to include Sarpy, and Washington Counties in Nebraska.

The Council Bluffs-Pottawattamie County Simulcast System, officially known as the "Pottawattamie (Simulcast) Sub-System," will be a separate cell of the Omaha-Douglas County ASTRO-25 (Project 25) Trunked Radio System (TRS), which should be online by the end of August, 2006, with final acceptance scheduled for May, 2007. The system would not be possible without the U.S. Department Justice/COPS Interoperable Communications Technology Grant, in the amount of $6 million dollars. Likewise, the additional matching funds were provided by the city of Council Bluffs and Pottawattamie County that will help offset the final cost of the new radio system.

GeoComm, a world-leader in public safety communications system design, homeland security projects, and wireless technology solutions based out of Minnesota, is building the new state-of-the-art radio system. Moreover, since GeoComm designed the original Douglas County/Omaha system and is currently working with Washington County, Nebraska, to extend that system to their county, they were the logical choice to oversee the extensive project. Likewise, other counties in southwestern Iowa have expressed a strong interest in joining the system in the future.

By joining the Douglas County/Omaha Radio System, the residents of Council Bluffs and Pottawattamie County, will see significant savings compared to the price of a stand alone of their own, which they could not afford. Further, the age of the current VHF/UHF radio systems is a critical factor in decided to completely replace the current system, since replacement parts in many cases are no longer available from the equipment manufacturers. Moreover, since the two aforementioned governmental entities often interact and share resources with other agencies in the Omaha area, this will place everyone on one unified radio system; thus, creating a true interoperable environment. That said, the scope and expansion of this system will likely include, among others, the following multi-jurisdictional agencies in the future:

* Iowa State Patrol.
* Iowa Division of Criminal Investigation.
* Nebraska State Patrol.
* Federal Bureau of Investigation.
* U.S. Air Force (Offutt AFB).
* Dept. of Homeland Security.
* Federal Bureau of Investigation.

When finally completed in 2007, the Pottawattamie Sub-System will bring public safety communications throughout the county well into the 21st Century, and provide interoperability to all first responders; thus, making the community a safer place for all of it's residents.

News Update Posted on 2004-05-29 18:03:44
Officials from Douglas County and Omaha Public Power District (OPPD) have signed a mutual agreement that will completely share radio system resources with each other. In exchange for allowing the OPPD to share half the costs with Douglas County, the entire Douglas County-OPPD TRS, will be overhauled and upgraded to the ASTRO 6.3 platform, using SmartZone technology. Subsequently, all Douglas County and city of Omaha users will be able to use their radios in neighboring counties.
News Update Posted on 2004-01-18 05:43:24
Today the Omaha Police Dept switched from their 460 MHz band to this system. Currently, the Bennington, Boystown, Elkhorn, Ralston, Valley, and Waterloo police departments are dispatched on A01 and A02 of the Sheriffs Dept.
News Update Posted on 2003-12-13 04:39:21
This system is on the air for testing and digital voice adjustments; hearing system technicians at this time. Using PRO-96 scanner, the Trunk System Id is show as BEE00 SY144 T0101, and the Control Channel is a 9600 BPS.

Conventional Channels:
These frequencies match Sarpy County (South of Omaha)

866.0125 PL 156.7 Sarpy Central (Papillion, La Vista Area)
866.5125 PL 156.7 Sarpy East (Bellevue)
867.0125 PL 156.7 Sarpy West (SpringField and Gretna Area)

Misc System Information
City police departments dispatched by Douglas County Sheriff: Bennington, Boys Town, Elkhorn, Ralston, Valley, and Waterloo.

Volunteer fire departments dispatched by Douglas County using this system: Bennington, Boys Town, Elkhorn, Irvington, Ponca Hills, Ralston, Valley, and Waterloo.

NPSPAC Frequencies are programmed in every Public Service radio (Repeater locations in Parentheses):

851.0125 156.7 PL "C11 - NPSAC Calling" (1103 N. 40th Street and 156th & Maple)
851.5125 156.7 PL "C12 - NPSAC TAC 1" (1103 N. 40th Street)
852.0125 156.7 PL "C13 - NPSAC TAC 2" (156th & Maple)
852.5125 156.7 PL "C14 - NPSAC TAC 3" (3200 Joshua Road)
853.0125 156.7 PL "C15 - NPSAC TAC 4" (2808 B Street)

Omaha Police Beat Map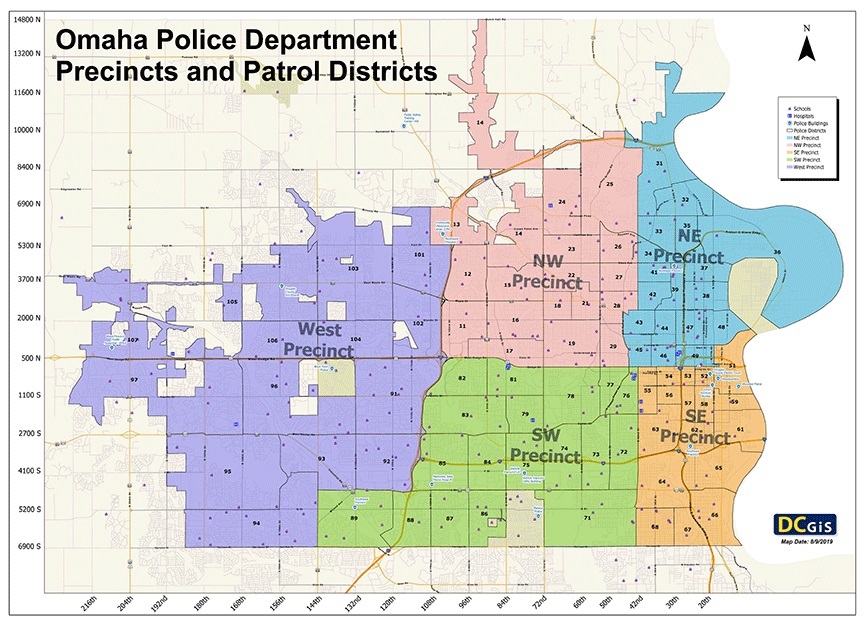 Douglas County Districts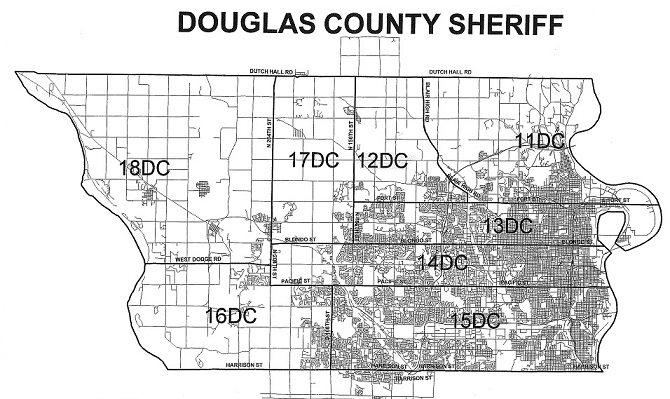 System Frequencies
Red (c)
are primary control channels |
Blue (a)
are alternate control channels | Site Map(s):
FCC Callsigns
RR Locations
| RFSS | Site | Name | County | Freqs | | | | | | |
| --- | --- | --- | --- | --- | --- | --- | --- | --- | --- | --- |
| 1 (1) | 001 (1) | Douglas County Simulcast | Douglas, NE | 851.2375 | 851.275 | 851.5375 | 851.5625 | 851.5875 | 851.7875 | 851.950 |
| | | | | 852.225 | 852.4125 | 852.5875 | 852.7125 | 852.9625a | 853.2125 | 853.450 |
| | | | | 853.475 | 853.5125 | 853.700 | 853.725a | 853.7625c | 853.950a | |
| 1 (1) | 002 (2) | Elkhorn | Douglas, NE | 855.3625 | 855.4875 | 855.9625 | 856.4375 | 856.9375 | 857.4375 | 857.9375 |
| | | | | 858.2875a | 858.3125 | 858.4375 | 858.4875a | 858.9375 | 859.2875 | 859.3125 |
| | | | | 859.3375a | 859.4375 | 859.4875 | 859.9375 | 860.3375c | 860.4375 | 860.4875 |
| | | | | 860.9375 | | | | | | |
| 1 (1) | 003 (3) | Blair | Washington, NE | 855.3625 | 855.4875 | 855.9625 | 856.4375 | 856.9375 | 857.4375 | 857.4625 |
| | | | | 857.9375 | 857.9625a | 858.2125a | 858.2875 | 858.4375 | 858.4625a | 858.4875 |
| | | | | 858.7125c | 858.9375 | 859.2875 | 859.4375 | 859.4875 | 859.9375 | 860.4375 |
| | | | | 860.4875 | 860.9375 | | | | | |
| 1 (1) | 004 (4) | Gretna | Sarpy, NE | 851.1375 | 855.3625 | 855.4875 | 855.9625 | 856.4375 | 856.9375 | 857.4375 |
| | | | | 857.9375 | 858.2875 | 858.3125a | 858.4375 | 858.4875 | 858.9375 | 859.2875 |
| | | | | 859.3125a | 859.3375 | 859.4375 | 859.4875a | 859.9375 | 860.3375 | 860.4375c |
| | | | | 860.4875 | 860.9375 | | | | | |
| 1 (1) | 005 (5) | Julian | Nemaha, NE | 854.8875a | 855.4875 | 855.9625 | 856.3125a | 856.4375 | 856.9375 | 857.4375 |
| | | | | 857.9375 | 858.2875 | 858.3125 | 858.4375 | 858.4875 | 858.9375 | 859.2875 |
| | | | | 859.3125 | 859.3375 | 859.4375 | 859.4875 | 859.9375 | 860.3375 | 860.4375 |
| | | | | 860.4875c | 860.9375 | | | | | |
| 1 (1) | 006 (6) | Murray | Cass, NE | 851.1125 | 855.4875 | 855.9625 | 856.4375 | 856.9375 | 857.4375 | 857.9375 |
| | | | | 858.2875 | 858.3125 | 858.4375a | 858.4875 | 858.9375 | 859.2875a | 859.3125 |
| | | | | 859.3375 | 859.4375c | 859.4875 | 859.9375 | 860.3375 | 860.4375 | 860.4875 |
| | | | | 860.9375 | | | | | | |
| 1 (1) | 007 (7) | Omaha | Douglas, NE | 855.4875 | 855.9625 | 856.4375a | 856.9375a | 857.4375a | 857.9375c | 858.2875 |
| | | | | 858.4375 | 858.4875 | 858.9375 | 859.2875 | 859.4375 | 859.4875 | 859.9375 |
| | | | | 860.4375 | 860.4875 | 860.9375 | | | | |
| 1 (1) | 008 (8) | Syracuse | Otoe, NE | 851.375 | 854.8875 | 855.3625 | 855.4875 | 855.9625 | 856.3125 | 856.4375 |
| | | | | 856.7625 | 856.9375 | 857.4375 | 857.9375 | 858.2875 | 858.3125 | 858.4375 |
| | | | | 858.4875 | 858.9375a | 859.2875 | 859.3125 | 859.3375 | 859.4375 | 859.4875 |
| | | | | 859.9375c | 860.3375 | 860.4375 | 860.4875 | 860.9375a | | |
| 1 (1) | 009 (9) | Barada | Richardson, NE | 855.4875 | 855.9625a | 856.4375c | 856.7625 | 856.9375 | 857.4375 | 857.9375 |
| | | | | 858.4375 | 858.9375 | 859.4375 | 859.9375 | 860.4375 | 860.9375 | |
| 1 (1) | 010 (A) | Cedar Bluffs | Saunders, NE | 854.8875 | 855.3625 | 855.4875 | 855.9625 | 856.3125a | 856.4375 | 856.7625 |
| | | | | 856.9375 | 857.4375 | 857.9375 | 858.2875 | 858.3125 | 858.4375 | 858.4875 |
| | | | | 858.9375 | 859.2875 | 859.3125 | 859.3375 | 859.4375 | 859.4875 | 859.9375 |
| | | | | 860.3375 | 860.4375 | 860.4875c | 860.9375 | | | |
| 1 (1) | 011 (B) | Steinauer | Pawnee, NE | 855.9625 | 856.4375 | 856.4875 | 856.7625 | 856.9375 | 857.4375 | 857.4875 |
| | | | | 857.9375a | 858.4375 | 858.4875c | 858.9375 | 859.4375 | 859.4875 | 859.9375 |
| | | | | 860.4375 | 860.4875 | 860.9375 | | | | |
| 1 (1) | 012 (C) | Telbasta | Washington, NE | 855.4875 | 855.5875 | 855.9625 | 856.4375 | 856.8125a | 856.9375 | 857.4375 |
| | | | | 857.9375 | 858.2875 | 858.3125 | 858.4375 | 858.4875 | 858.9375 | 859.2875 |
| | | | | 859.3125 | 859.3375 | 859.4125c | 859.4375 | 859.4875 | 859.9375 | 860.3375 |
| | | | | 860.4375 | 860.4875 | 860.9375 | | | | |
| 1 (1) | 014 (E) | Pottawattamie County Simulcast | Pottawattamie, IA | 854.0625 | 854.5625 | 856.2625 | 856.7375 | 857.2625 | 857.7375 | 858.2625a |
| | | | | 858.7375a | 859.2625c | 859.7375a | | | | |
| 1 (1) | 015 (F) | Washington County/Fremont Simulcast | Washington, NE | 851.100 | 851.4125 | 851.7625 | 853.425a | 854.7375a | 856.1875c | 857.1875 |
| 1 (1) | 024 (18) | Sarpy County Simulcast | Sarpy, NE | 854.6125 | 855.1375 | 855.3875 | 855.7125 | 856.2375 | 856.8375 | 857.2375 |
| | | | | 857.9875 | 858.2375a | 858.9875a | 859.2375a | 859.7875c | | |
System Talkgroups
Mutual Aid Talkgroups
| DEC | HEX | Mode | Alpha Tag | Description | Tag |
| --- | --- | --- | --- | --- | --- |
| 212 | 0d4 | D | Dispatch Com | Dispatch Common | Multi-Dispatch |
| 200 | 0c8 | D | Metro 1 | Metro 1 | Multi-Tac |
| 201 | 0c9 | D | Metro 2 | Metro 2 | Multi-Tac |
| 202 | 0ca | D | Metro 3 | Metro 3 | Multi-Tac |
| 203 | 0cb | D | Metro 4 | Metro 4 | Multi-Tac |
| 204 | 0cc | D | Metro 5 | Metro 5 | Multi-Tac |
| 205 | 0cd | D | Metro 6 | Metro 6 | Multi-Tac |
| 206 | 0ce | D | Metro 7 | Metro 7 | Multi-Tac |
| 211 | 0d3 | DE | Metro 1 ENC | Metro 1 Encrypted | Multi-Tac |
| 213 | 0d5 | DE | Metro 2 ENC | Metro 2 Encrypted | Multi-Tac |
| 214 | 0d6 | DE | Metro 3 ENC | Metro 3 Encrypted | Multi-Tac |
| 215 | 0d7 | DE | Metro 4 ENC | Metro 4 Encrypted | Multi-Tac |
| 216 | 0d8 | DE | Metro 5 ENC | Metro 5 Encrypted | Multi-Tac |
| 217 | 0d9 | DE | Metro 6 ENC | Metro 6 Encrypted | Multi-Tac |
| 218 | 0da | DE | Metro 7 ENC | Metro 7 Encrypted | Multi-Tac |
| 342 | 156 | D | Metro Helo | Metro Helicopter | EMS-Tac |
Dodge County Talkgroups
| DEC | HEX | Mode | Alpha Tag | Description | Tag |
| --- | --- | --- | --- | --- | --- |
| 2180 | 884 | T | Dodge Co Sheriff | Sheriff Dispatch | Law Dispatch |
Fremont Talkgroups
| DEC | HEX | Mode | Alpha Tag | Description | Tag |
| --- | --- | --- | --- | --- | --- |
| 2168 | 878 | D | FremontPD/FD | Police/Fire Interoperbility | Interop |
| 2150 | 866 | T | Fremont PD 1 | Police - Dispatch | Law Dispatch |
| 2151 | 867 | D | Fremont PD 2 | Police - Records | Law Talk |
| 2152 | 868 | DE | Fremont PD 3 | Police - Secure | Law Talk |
| 2153 | 869 | T | Fremont PD 4 | Police - Event 4 | Law Talk |
| 2154 | 86a | D | Fremont PD 5 | Police - Event 5 | Law Talk |
| 2155 | 86b | D | Fremont PD 6 | Police - Event 6 | Law Talk |
| 2156 | 86c | D | Fremont PD 7 | Police - Event 7 | Law Talk |
| 2160 | 870 | T | Fremont FD 1 | Fire - Dispatch | Fire Dispatch |
| 2166 | 876 | D | Fremont FD 2 | Fire - EMS Tac 2 | Fire-Tac |
| 2167 | 877 | D | Fremont FD 3 | Fire - EMS Tac 3 | Fire-Tac |
| 2161 | 871 | D | Fremont FD 4 | Fire - Fireground 4 | Fire-Tac |
| 2162 | 872 | D | Fremont FD 5 | Fire - Fireground 5 | Fire-Tac |
| 2163 | 873 | D | Fremont FD 6 | Fire - Fireground 6 | Fire-Tac |
| 2164 | 874 | D | Fremont FD 7 | Fire - Fireground 7 | Fire-Tac |
| 2165 | 875 | D | Fremont FD 8 | Fire - Fireground 8 | Fire-Tac |
| 2158 | 86e | D | Fremont EMA | Emergency Management | Emergency Ops |
| 2159 | 86f | D | Fremont 911 | 911 | Emergency Ops |
Douglas County Talkgroups
| DEC | HEX | Mode | Alpha Tag | Description | Tag |
| --- | --- | --- | --- | --- | --- |
| 625 | 271 | D | DC LE | Countywide Law Enforcement | Law Dispatch |
| 2 | 002 | T | DCSO Disp | Sheriff - Dispatch | Law Dispatch |
| 3 | 003 | DE | DCSO Records | Sheriff - Records | Law Tac |
| 10 | 00a | D | DCSO Rural PD | Sheriff - Rural Police | Law Tac |
| 11 | 00b | D | DCSO Court | Sheriff - Courthouse Dispatch | Law Tac |
| 28 | 01c | D | DCSO CIB | Sheriff - Criminal Investagations | Law Tac |
| 12 | 00c | D | DCSO Civic | Sheriff - Civic Center | Law Tac |
| 19 | 013 | D | DCSO Event 1 | Sheriff - Event 1 | Law Tac |
| 20 | 014 | D | DCSO Event 2 | Sheriff - Event 2 | Law Tac |
| 21 | 015 | D | DCSO Event 3 | Sheriff - Event 3 | Law Tac |
| 25 | 019 | D | DCSO Event 4 | Sheriff - Event 4 | Law Tac |
| 22 | 016 | D | DCSO Event 5 | Sheriff - Event 5/Training 1 | Law Tac |
| 23 | 017 | D | DCSO Event 6 | Sheriff - Event 6/Training 2 | Law Tac |
| 109 | 06d | TE | DCSO Secure | Sheriff - Secure | Law Tac |
| 272 | 110 | D | DC 911 Training | 911 Dispatcher Incident Training | Multi-Tac |
| 150 | 096 | T | DCCC 01 Centrl | Correctional Center - Central Control | Corrections |
| 152 | 098 | D | DCCC 03 Admin | Correctional Center - Administration | Corrections |
| 153 | 099 | D | DCCC 04 Progra | Correctional Center - Programs | Corrections |
| 154 | 09a | D | DCCC 05 Commun | Correctional Center - Community | Corrections |
| 155 | 09b | D | DCCC 05 WorkRl | Correctional Center - Work Release | Corrections |
| 156 | 09c | D | DCCC 07 Supprt | Correctional Center - Support | Corrections |
| 157 | 09d | T | DCCC 08 OldSde | Correctional Center - Old Side | Corrections |
| 158 | 09e | T | DCCC 09 Annex | Correctional Center - Annex | Corrections |
| 151 | 097 | T | DCCC 10 NewSde | Correctional Center - New Side | Corrections |
| 160 | 0a0 | D | DCCC 12 Bookng | Correctional Center - Booking | Corrections |
| 161 | 0a1 | D | DCCC 13 Common | Correctional Center - Common | Corrections |
| 159 | 09f | D | DCCC Day Report | Correctional Center - Day Reporting Control | Corrections |
| 162 | 0a2 | D | DCCC Training | Correctional Center - Training | Corrections |
| 166 | 0a6 | D | DCCC 166 | Correctional Center (166) | Corrections |
| 175 | 0af | D | DCCC Food/San | Correctional Center - Food Service / Sanitation | Corrections |
| 176 | 0b0 | D | DCCC Emergency | Correctional Center - Emergency | Corrections |
| 481 | 1e1 | DE | DC Fire ENC | Fire Encrypted | Fire-Tac |
| 484 | 1e4 | DE | DC Fire 911 | Fire 911 | Fire-Tac |
| 485 | 1e5 | DE | DC Fire Admin | Fire Admin | Fire-Tac |
| 486 | 1e6 | DE | DC Fire/SO Talk | Fire/Sheriff Talk | Fire-Talk |
| 220 | 0dc | D | DC Firecom | Firecom | Fire Dispatch |
| 459 | 1cb | D | DC Fire Comm | Fire Comm | Business |
| 496 | 1f0 | D | DC Fire Station | Fire Station Announcements | Fire Dispatch |
| 497 | 1f1 | D | DC EMS Dispatch | EMS Dispatch | EMS Dispatch |
| 252 | 0fc | D | DCEM EOC Call | EOC Calling | Emergency Ops |
| 247 | 0f7 | D | DCEM Event 1 | DCEM Event 1 | Emergency Ops |
| 248 | 0f8 | D | DCEM Event 2 | DCEM Event 2 | Emergency Ops |
| 262 | 106 | D | DCEM OMMRS Ctrl | OMMRS Control | Emergency Ops |
| 263 | 107 | D | DCEM OMMRS 1 | OMMRS Event 1 | Emergency Ops |
| 264 | 108 | D | DCEM OMMRS 2 | OMMRS Event 2 | Emergency Ops |
| 265 | 109 | D | DCEM OMMRS 4 | OMMRS Event 3 | Emergency Ops |
| 266 | 10a | D | DCEM OMMRS 4 | OMMRS Event 4 | Emergency Ops |
| 250 | 0fa | D | DCEM Health Call | Health Calling | Emergency Ops |
| 254 | 0fe | D | DCEM Health 1 | Health Event 1 | Emergency Ops |
| 255 | 0ff | D | DCEM Health 2 | Health Event 2 | Emergency Ops |
| 256 | 100 | D | DCEM Health 3 | Health Event 3 | Emergency Ops |
| 257 | 101 | D | DCEM Health 4 | Health Event 4 | Emergency Ops |
| 251 | 0fb | D | DCEM Health Cmn | Health Common | Emergency Ops |
| 259 | 103 | DE | DCEM Hops/Health | Hospital/Health Secure | Emergency Ops |
| 207 | 0cf | D | DCEM MedGtwy 1 | Medical Gateway 1 | Emergency Ops |
| 208 | 0d0 | D | DCEM MedGtwy 2 | Medical Gateway 2 | Emergency Ops |
| 209 | 0d1 | D | DCEM MedGtwy 3 | Medical Gateway 3 | Emergency Ops |
| 258 | 102 | DE | DCEM Hosp ENC | Hospital Secure | Emergency Ops |
| 253 | 0fd | D | DCEM Poison Cntr | Poison Control | Emergency Ops |
| 260 | 104 | D | DCEM ARC Blood | Red Cross Blood Bank | Emergency Ops |
| 249 | 0f9 | DE | DCEM ENC 249 | Unknown Secure (249) | Emergency Ops |
| 261 | 105 | D | DCEM Med 261 | Medical (261) | Emergency Ops |
| 33 | 021 | D | DC Event 1 | Event 1 | Multi-Tac |
| 34 | 022 | D | DC Event 2 | Event 2 | Multi-Tac |
| 35 | 023 | D | DC Event 3 | Event 3 | Multi-Tac |
| 36 | 024 | D | DC Event 4 | Event 4 | Multi-Tac |
| 57 | 039 | D | DC Court Mtce | Courthouse Maintenance | Public Works |
| 760 | 2f8 | D | DC Roads | County Roads Department | Public Works |
Bennington Talkgroups
| DEC | HEX | Mode | Alpha Tag | Description | Tag |
| --- | --- | --- | --- | --- | --- |
| 71 | 047 | D | Benn PD/FD | Police/Fire | Multi-Dispatch |
| 72 | 048 | D | Benn Event 1 | Event 1 | Multi-Tac |
| 73 | 049 | D | Benn Event 2 | Event 2 | Multi-Tac |
Boys Town Talkgroups
| DEC | HEX | Mode | Alpha Tag | Description | Tag |
| --- | --- | --- | --- | --- | --- |
| 65 | 041 | D | Boys Police | Police | Law Dispatch |
| 66 | 042 | D | Boys Event 1 | Event 1 | Multi-Tac |
| 67 | 043 | D | Boys Event 2 | Event 2 | Multi-Tac |
Irvington Talkgroups
Irvington is located in Douglas County, Nebraska
| DEC | HEX | Mode | Alpha Tag | Description | Tag |
| --- | --- | --- | --- | --- | --- |
| 367 | 16f | D | Irvington Fire | Fire (A12) | Fire-Tac |
Omaha - Fire Talkgroups
| DEC | HEX | Mode | Alpha Tag | Description | Tag |
| --- | --- | --- | --- | --- | --- |
| 442 | 1ba | D | OFD Station Page | Station Paging | Fire Dispatch |
| 443 | 1bb | T | OFD Dispatch | Dispatch | Fire Dispatch |
| 458 | 1ca | T | OFD VFD Dispatch | VFD Dispatch | Fire Dispatch |
| 444 | 1bc | T | OFD TAC 3 | TAC 3 | Fire-Tac |
| 445 | 1bd | D | OFD TAC 4 | TAC 4 | Fire-Tac |
| 446 | 1be | D | OFD TAC 5 | TAC 5 | Fire-Tac |
| 447 | 1bf | D | OFD TAC 6 | TAC 6 | Fire-Tac |
| 448 | 1c0 | D | OFD TAC 7 | TAC 7 | Fire-Tac |
| 449 | 1c1 | D | OFD TAC 8 | TAC 8 | Fire-Tac |
| 450 | 1c2 | D | OFD TAC 9 | TAC 9 | Fire-Tac |
| 451 | 1c3 | D | OFD TAC 10 | TAC 10 | Fire-Tac |
| 452 | 1c4 | D | OFD TAC 11 | TAC 11 | Fire-Tac |
| 453 | 1c5 | D | OFD TAC 12 | TAC 12 | Fire-Tac |
| 454 | 1c6 | D | OFD TAC 13 | TAC 13 | Fire-Tac |
| 455 | 1c7 | D | OFD TAC 14 | TAC 14 | Fire-Tac |
| 456 | 1c8 | D | OFD TAC 15 | TAC 15 | Fire-Tac |
| 299 | 12b | D | OFD Stations | Station Intercomm System | Fire-Tac |
| 302 | 12e | D | OFD RIT | A14 City Fire Rapid Intervention Team (RIT) | Fire-Tac |
| 306 | 132 | D | OFD HazMat | A12 Hazmat Common | Fire-Tac |
| 330 | 14a | D | OFD 911 Fire | A16 911 Fire | Fire-Tac |
| 389 | 185 | D | OFD Arson | D14 Arson Investigation | Fire-Tac |
| 388 | 184 | D | OFD Arson | Arson Investigation | Fire-Tac |
| 221 | 0dd | D | OFD Training 221 | Training | Fire-Talk |
| 222 | 0de | D | OFD Training 222 | Training | Fire-Talk |
| 223 | 0df | D | OFD Training 223 | Training | Fire-Talk |
| 224 | 0e0 | D | OFD Training 224 | Training | Fire-Talk |
| 225 | 0e1 | D | OFD Training 225 | Training | Fire-Tac |
| 474 | 1da | DE | OFD TAC 2 ENC | TAC 2 Encrypted | Fire-Tac |
| 475 | 1db | DE | OFD TAC 3 ENC | TAC 3 Encrypted | Fire-Tac |
| 476 | 1dc | DE | OFD TAC 4 ENC | TAC 4 Encrypted | Fire-Tac |
| 477 | 1dd | DE | OFD TAC 5 ENC | TAC 5 Encrypted | Fire-Tac |
| 478 | 1de | DE | OFD TAC 6 ENC | TAC 6 Encrypted | Fire-Tac |
| 479 | 1df | DE | OFD Admin | Admin | Fire-Tac |
| 480 | 1e0 | DE | OFD Investigatrs | Investigators | Fire-Tac |
| 482 | 1e2 | DE | OFD Fire/PD Talk | Fire/PD Talk | Fire-Talk |
| 483 | 1e3 | DE | OFD Fire 911 ENC | Fire 911 Encrypted | Fire-Tac |
| 487 | 1e7 | DE | OFD FD/SO Talk | Fire/County Sheriff Talk | Fire-Talk |
Omaha - Police Talkgroups
| DEC | HEX | Mode | Alpha Tag | Description | Tag |
| --- | --- | --- | --- | --- | --- |
| 4 | 004 | T | OPD W Disp | West Dispatch | Law Dispatch |
| 5 | 005 | T | OPD NW Disp | Northwest Dispatch | Law Dispatch |
| 6 | 006 | T | OPD NE Disp | Northeast Dispatch | Law Dispatch |
| 7 | 007 | T | OPD SE Disp | Southeast Dispatch | Law Dispatch |
| 8 | 008 | T | OPD SW Disp | Southwest Dispatch | Law Dispatch |
| 601 | 259 | TE | OPD Info 601 | Information (601) | Law Talk |
| 681 | 2a9 | D | OPD LE 8 | Police 8 | Law Tac |
| 604 | 25c | D | OPD CIB | Criminal Investagations | Law Tac |
| 605 | 25d | D | OPD CSI | Crime Scene | Law Tac |
| 610 | 262 | D | OPD 911 Law | 911 - Police | Law Tac |
| 611 | 263 | D | OPD Event 1 | Event 1 | Law Tac |
| 612 | 264 | D | OPD Event 2 | Event 2 | Law Tac |
| 613 | 265 | D | OPD Event 3 | Event 3 | Law Tac |
| 614 | 266 | D | OPD Event 4 | Event 4 | Law Tac |
| 615 | 267 | D | OPD Event 5 | Training 1 | Law Tac |
| 616 | 268 | D | OPD Event 6 | Training 2 | Law Tac |
| 617 | 269 | D | OPD LE Evt 1 | LE Event 1 | Law Tac |
| 618 | 26a | D | OPD LE Evt 2 | LE Event 2 | Law Tac |
| 619 | 26b | D | OPD LE Evt 3 | LE Event 3 | Law Tac |
| 620 | 26c | D | OPD LE Evt 4 | LE Event 4 | Law Tac |
| 682 | 2aa | D | OPD Event 5 | Event 5 | Law Tac |
| 648 | 288 | D | OPD TrafEvt1 | Traffic Event 1 | Law Tac |
| 649 | 289 | D | OPD TrafEvt2 | Traffic Event 2 | Law Tac |
| 626 | 272 | DE | OPD ERU 1 | ERU 1 | Law Tac |
| 627 | 273 | DE | OPD ERU 2 | ERU 2 | Law Tac |
| 628 | 274 | DE | OPD ERU 3 | ERU 3 | Law Tac |
| 631 | 277 | D | OPD Joint 1 | Joint 1 | Law Tac |
| 632 | 278 | DE | OPD Joint 2 | Joint 2 | Law Tac |
| 661 | 295 | DE | OPD Narc 1 | Narcotics 1 | Law Tac |
| 662 | 296 | DE | OPD Narc 2 | Narcotics 2 | Law Tac |
| 663 | 297 | DE | OPD Narc 3 | Narcotics 3 | Law Tac |
| 676 | 2a4 | D | OPD CrimeLab | Crime Lab | Law Tac |
| 112 | 070 | TE | OPD B1 NW Sec | Northwest Secure (B01) | Law Tac |
| 113 | 071 | TE | OPD B2 NE Sec | Northeast Secure (B02) | Law Tac |
| 114 | 072 | TE | OPD B3 SE Sec | Southeast Secure (B03) | Law Tac |
| 115 | 073 | TE | OPD B4 SW Sec | Southwest Secure (B04) | Law Tac |
| 118 | 076 | TE | OPD B5 West Sec | West Secure (B05) | Law Tac |
| 603 | 25b | D | OPD OCCP | Omaha Coalition of Citizens Patrol | Law Tac |
| 608 | 260 | D | OPD OCCP | Omaha Coalition of Citizens Patrol | Law Tac |
| 637 | 27d | D | OPD OCCP | Omaha Coalition of Citizens Patrol | Law Tac |
| 638 | 27e | D | OPD OCCP | Omaha Coalition of Citizens Patrol | Law Tac |
| 639 | 27f | D | OPD OCCP | Omaha Coalition of Citizens Patrol | Law Tac |
| 640 | 280 | D | OPD OCCP | Omaha Coalition of Citizens Patrol | Law Tac |
| 227 | 0e3 | D | MCC Police | Metropolitan Community College Police | Law Dispatch |
| 629 | 275 | DE | OPD ? 6 | Unid | Law Tac |
| 630 | 276 | D | OPD ? 6 | Unid | Law Tac |
| 633 | 279 | D | OPD Ch D1 | D01 Unknown Use | Law Tac |
| 641 | 281 | DE | OPD ? 641 | Unid | Law Tac |
| 642 | 282 | DE | OPD ? 642 | Unid | Law Tac |
| 643 | 283 | DE | OPD ? 643 | Unid | Law Tac |
| 644 | 284 | DE | OPD ? 644 | Unid | Law Tac |
| 645 | 285 | DE | OPD ? 645 | Unid | Law Tac |
| 646 | 286 | DE | OPD ? 646 | Unid | Law Tac |
| 652 | 28c | D | OPD ? 652 | Unid | Law Tac |
| 653 | 28d | D | OPD ? 653 | Unid | Law Tac |
| 689 | 2b1 | D | OPD ? 689 | Unid | Law Tac |
Omaha - Public Works Talkgroups
| DEC | HEX | Mode | Alpha Tag | Description | Tag |
| --- | --- | --- | --- | --- | --- |
| 354 | 162 | D | OPW | Public Works | Public Works |
| 773 | 305 | D | OPW Supervisors | Supervisors | Public Works |
| 772 | 304 | D | OPW M Event 1 | Maintenance Event 1 | Public Works |
| 768 | 300 | D | OPW M Event 2 | Maintenance Event 2 | Public Works |
| 774 | 306 | D | OPW M Event 3 | Maintenance Event 3 | Public Works |
| 775 | 307 | D | OPW M Event 4 | Maintenance Event 4 | Public Works |
| 776 | 308 | D | OPW M Event 5 | Maintenance Event 5 | Public Works |
| 781 | 30d | D | OPW Event 1 | Event 1 | Public Works |
| 782 | 30e | D | OPW Event 2 | Event 2 | Public Works |
| 783 | 30f | D | OPW Event 3 | Event 3 | Public Works |
| 784 | 310 | D | OPW Event 4 | Event 4 | Public Works |
| 785 | 311 | D | OPW Event 5 | Event 5 | Public Works |
| 136 | 088 | D | OPW Snowplow | Snowplows | Public Works |
| 165 | 0a5 | D | OPW Sanitation | Sanitation | Public Works |
| 769 | 301 | D | OPW Streets | Street Department | Public Works |
| 770 | 302 | D | OPW Sewer | Sewer Maintenance | Public Works |
| 771 | 303 | D | OPW Traffic | Traffic Signal Maintenance | Public Works |
| 777 | 309 | D | OPW Construction | Construction | Public Works |
| 778 | 30a | D | OPW Q Control | Quaility Control | Public Works |
| 779 | 30b | D | OPW Project 1 | Project 1 | Public Works |
| 780 | 30c | D | OPW Project 2 | Project 2 | Public Works |
Ponca Hills Talkgroups
| DEC | HEX | Mode | Alpha Tag | Description | Tag |
| --- | --- | --- | --- | --- | --- |
| 370 | 172 | D | Ponca Hills Fire | Fire (B04) | Fire-Tac |
Ralston Talkgroups
Ralston is located in Douglas County, Nebraska
| DEC | HEX | Mode | Alpha Tag | Description | Tag |
| --- | --- | --- | --- | --- | --- |
| 59 | 03b | D | Ralston LE/FD | LE/FD | Multi-Tac |
| 60 | 03c | D | Ralston Police | Police | Law Tac |
| 61 | 03d | D | Ralston DPW | Ralston Public Works | Public Works |
| 137 | 089 | D | Ralston DPW 14 | Public Works 14 | Public Works |
| 219 | 0db | D | EMS to BMH | EMS to Bergan Mercy Hospital | Hospital |
Valley Talkgroups
| DEC | HEX | Mode | Alpha Tag | Description | Tag |
| --- | --- | --- | --- | --- | --- |
| 62 | 03e | D | Valley Police | Police (A12) | Law Dispatch |
| 63 | 03f | D | Valley Event 1 | Event 1 (A13) | Multi-Tac |
| 64 | 040 | D | Valley Event 2 | Event 2 (A14) | Multi-Tac |
Waterloo Talkgroups
| DEC | HEX | Mode | Alpha Tag | Description | Tag |
| --- | --- | --- | --- | --- | --- |
| 68 | 044 | D | Waterloo FD/LE | Fire/LE (B06) | Multi-Tac |
| 69 | 045 | DE | Waterloo Event 1 | Event 1 | Multi-Talk |
| 70 | 046 | DE | Waterloo Event 2 | Event 2 | Multi-Talk |
Pottawattamie County Talkgroups
| DEC | HEX | Mode | Alpha Tag | Description | Tag |
| --- | --- | --- | --- | --- | --- |
| 2574 | a0e | D | PC Countywide | Countywide | Interop |
| 2501 | 9c5 | D | PCSO 1 Disp | Sheriff 1 Dispatch | Law Dispatch |
| 2502 | 9c6 | T | PCSO 2 Records | Sheriff 2 Records | Law Talk |
| 2503 | 9c7 | D | PCSO CIB | Sheriff CIB | Law Tac |
| 2031 | 7ef | D | PC MVly Hosp | D14 Mo Valley Hospital | Hospital |
| 2543 | 9ef | D | PC Helo GC | A12 Helo GC | EMS-Tac |
| 2570 | a0a | D | PC Common 1 | C01 Common 1 | Interop |
| 2571 | a0b | D | PC Common 2 | C02 Common 2 | Interop |
| 2572 | a0c | D | PC Common 3 | C03 Common 3 | Interop |
| 2573 | a0d | D | PC Event | Event | Interop |
| 2575 | a0f | D | PC Emergency | Emergency | Emergency Ops |
| 2701 | a8d | D | PC LEA Glnwd | LEA Glenwood | Law Talk |
| 2702 | a8e | D | PC LEA Atlan | LEA Atlantic | Law Talk |
| 2703 | a8f | D | PC StateFire | A13 State Fire (154.280) | Fire-Talk |
| 2704 | a90 | D | PC Reg EMS | A14 Regional EMS (155.340) | EMS-Tac |
| 2705 | a91 | D | PC Iowa M/A | A15 Iowa Mutual Aid (155.475) | Law Talk |
| 2706 | a92 | D | PC Pnt/Pnt | Point to Point (155.370) | Law Talk |
| 2760 | ac8 | D | PC C/W B02 | B02 County Wide Block 1 | Interop |
| 2761 | ac9 | D | PC C/W B03 | B03 County Wide | Interop |
| 2762 | aca | D | PC C/W B04 | B04 County Wide | Interop |
| 2763 | acb | D | PC C/W B05 | B05 County Wide Block 2 | Interop |
| 2764 | acc | D | PC C/W B06 | B06 County Wide | Interop |
| 2765 | acd | D | PC C/W B07 | B07 County Wide | Interop |
| 2766 | ace | D | PC C/W B08 | B08 County Wide Block 3 | Interop |
| 2767 | acf | D | PC C/W B09 | B09 County Wide | Interop |
| 2768 | ad0 | D | PC C/W B10 | B10 County Wide | Interop |
| 2769 | ad1 | D | PC C/W B11 | B11 County Wide Block 4 | Interop |
| 2770 | ad2 | D | PC C/W B12 | B12 County Wide | Interop |
| 2771 | ad3 | D | PC C/W B13 | B13 County Wide | Interop |
| 2546 | 9f2 | D | PCFD 1 East Ops | Fire East Operations | Fire-Tac |
| 2547 | 9f3 | D | PCFD E Talk | Fire East Talk | Fire-Talk |
| 2555 | 9fb | D | PCFD Group 5 | Fire Group 5 | Fire-Tac |
| 2556 | 9fc | D | PCFD Group 6 | Fire Group 6 | Fire-Tac |
| 2601 | a29 | D | PCFD Group 7 | Fire Group 7 | Fire-Tac |
| 2602 | a2a | D | PCFD Group 8 | Fire Group 8 | Fire-Tac |
| 2603 | a2b | D | PCFD Group 9 | Fire Group 9 | Fire-Tac |
| 2604 | a2c | D | PCFD Group10 | Fire Group 10 | Fire-Tac |
| 2615 | a37 | D | PCFD Training 2 | Training 2 | Fire-Tac |
| 2616 | a38 | D | PCFD Training 3 | Training 3 | Fire-Tac |
| 2617 | a39 | D | PCFD Training 4 | Training 4 | Fire-Tac |
| 2618 | a3a | D | PCFD Training 5 | Training 5 | Fire-Tac |
| 2619 | a3b | D | PCFD Training 6 | Training 6 | Fire-Tac |
| 2620 | a3c | D | PCFD Training 7 | Training 7 | Fire-Tac |
| 2621 | a3d | D | PCFD Training 8 | Training 8 | Fire-Tac |
| 2622 | a3e | D | PCFD Training 9 | Training 9 | Fire-Tac |
| 2623 | a3f | D | PCFD Training 10 | Training 10 | Fire-Tac |
| 2624 | a40 | D | PCFD Training 11 | Training 11 | Fire-Tac |
| 2625 | a41 | D | PCFD Training 12 | Training 12 | Fire-Tac |
| 2576 | a10 | D | PCFD 911 | 911 Fire | Fire-Talk |
| 2522 | 9da | D | PC EMA WX Spot | EMA Weather Spotters | Emergency Ops |
| 2523 | 9db | D | PC Conservation1 | Conservation 1 | Public Works |
| 2524 | 9dc | D | PC Conservation2 | Conservation 2 | Public Works |
| 2525 | 9dd | D | PC Conservation3 | Conservation 3 | Public Works |
| 2643 | a53 | D | PC Roads | Roads Department | Public Works |
Carter Lake Talkgroups
| DEC | HEX | Mode | Alpha Tag | Description | Tag |
| --- | --- | --- | --- | --- | --- |
| 2536 | 9e8 | D | CL Public Works | Public Works | Public Works |
Council Bluffs Talkgroups
| DEC | HEX | Mode | Alpha Tag | Description | Tag |
| --- | --- | --- | --- | --- | --- |
| 2551 | 9f7 | T | CB PD Dispatch | Police Dispatch | Law Dispatch |
| 2552 | 9f8 | D | CB PD Info | Police Information | Law Talk |
| 2565 | a05 | D | CB Fire | Fire | Fire Dispatch |
| 340 | 154 | D | Jenny Edmonds | Jennie Edmundson Hospital | Hospital |
| 2660 | a64 | D | CB Public Works | Public Works | Public Works |
| 2685 | a7d | D | CB Animal Contrl | Animal Control | Public Works |
Sarpy County Talkgroups
Sarpy County built out their own P25 system, and has since merged and intergrated with ORION. Talkgroups and the simulcast site merged 11/22/2019
| DEC | HEX | Mode | Alpha Tag | Description | Tag |
| --- | --- | --- | --- | --- | --- |
| 4018 | fb2 | D | SarpyCo Common 1 | Common 1 | Multi-Tac |
| 4019 | fb3 | D | SarpyCo Common 2 | Common 2 | Multi-Tac |
| 4020 | fb4 | D | SarpyCo Event 1 | Event 1 | Multi-Tac |
| 4021 | fb5 | D | SarpyCo Event 2 | Event 2 | Multi-Tac |
| 4022 | fb6 | D | SarpyCo Event 3 | Event 3 | Multi-Tac |
| 4023 | fb7 | D | SarpyCo Event 4 | Event 4 | Multi-Tac |
| 4024 | fb8 | D | SarpyCo Event 5 | Event 5 | Multi-Tac |
| 4001 | fa1 | T | SarpyCo LE East | Law Enforcement East | Law Dispatch |
| 4202 | 106a | DE | SarpyCo LE EastE | Law Enforcement East Secure | Law Talk |
| 4003 | fa3 | T | SarpyCo LE West | Law Enforcement West | Law Dispatch |
| 4254 | 109e | DE | SarpyCo LE WestE | Law Enforcement West Secure | Law Talk |
| 4004 | fa4 | D | SarpyCo LE Comm1 | Law Enforcement Common 1 | Law Tac |
| 4015 | faf | D | SarpyCo LE Comm2 | Law Enforcement Common 2 | Law Tac |
| 4002 | fa2 | DE | SarpyCo LE Recrd | Law Enforcement Records/Information | Law Talk |
| 4042 | fca | D | SarpySO Tac 1 | Sheriff Tac 1 | Law Tac |
| 4209 | 1071 | DE | SarpySO Tac 2 | Sheriff Tac 2 | Law Tac |
| 4046 | fce | D | SarpySO CARE 1 | Sheriff Care 1 | Law Talk |
| 4012 | fac | DE | SarpySO Jail | Sheriff Jail | Corrections |
| 4048 | fd0 | D | SarpySO CourtSec | Sheriff Court Security | Security |
| 4170 | 104a | D | SarpySO JJC | Sheriff Juvenile Justice Center | Corrections |
| 4049 | fd1 | D | SarpyCo FD East | Fire East | Fire Dispatch |
| 4050 | fd2 | D | SarpyCo FD West | Fire West | Fire Dispatch |
| 4061 | fdd | D | SarpyCo FD 16 | Fire Tac 16 | Fire-Tac |
| 4093 | ffd | D | SarpyCo FD 18 | Fire Tac 18 | Fire-Tac |
| 4088 | ff8 | D | SarpyCo FD 22 | Fire Tac 22 | Fire-Tac |
| 4077 | fed | D | SarpyCo FD 24 | Fire Tac 24 | Fire-Tac |
| 4250 | 109a | De | SarpyCo FD Ops 1 | Fire Ops 1 Secure | Fire-Talk |
| 4090 | ffa | D | SarpyCo FD Train | Fire Training | Fire-Talk |
| 4177 | 1051 | D | SarpyCo FD Trng | Fire Training | Fire-Talk |
| 4178 | 1052 | D | SarpyCo FD Trng | Fire Training | Fire-Talk |
| 4129 | 1021 | D | SarpyCo Pub Wrks | Public Works | Public Works |
| 4151 | 1037 | D | SarpyCo Test 1 | Radio Testing 1 | Public Works |
| 4152 | 1038 | D | SarpyCo Test 2 | Radio Testing 2 | Public Works |
Bellevue Talkgroups
| DEC | HEX | Mode | Alpha Tag | Description | Tag |
| --- | --- | --- | --- | --- | --- |
| 4007 | fa7 | D | Bellevue PD Tac1 | Police Tac 1 | Law Tac |
| 4225 | 1081 | DE | Bellevue PD 16 | Police 16 | Law Talk |
| 4186 | 105a | D | Bellevue FD Sta1 | Fire Station 1 | Fire Dispatch |
| 4187 | 105b | D | Bellevue FD Sta2 | Fire Station 2 | Fire Dispatch |
| 4188 | 105c | D | Bellevue FD Sta3 | Fire Station 3 | Fire Dispatch |
| 4189 | 105d | D | Bellevue FD Sta4 | Fire Station 4 | Fire Dispatch |
| 4195 | 1063 | D | Bellevue FD Supv | Fire Supervisors | Fire-Talk |
| 4009 | fa9 | D | Bellevue FD BC | Fire Battalion Chief | Fire-Talk |
| 4059 | fdb | D | Bellevue Med Ctr | Bellevue Medical Center | Hospital |
| 4096 | 1000 | D | Bellevue Streets | Streets | Public Works |
| 4100 | 1004 | D | Bellevue HSD | Human Service Division | Public Works |
| 4183 | 1057 | D | Bellevue CodeEnf | Code Enforcement | Public Works |
| 4097 | 1001 | D | Bellevue PubWrks | Public Works | Public Works |
| 4098 | 1002 | D | Bellevue Water | Public Works Water/Sewer | Utilities |
| 4145 | 1031 | T | Bellevue Sch Bus | School Bus | Schools |
La Vista Talkgroups
| DEC | HEX | Mode | Alpha Tag | Description | Tag |
| --- | --- | --- | --- | --- | --- |
| 4038 | fc6 | D | LaVista PD Tac 1 | Police Tactical 1 | Law Tac |
| 4120 | 1018 | D | LaVista Pub Wrks | Public Works | Public Works |
| 4207 | 106f | DE | LaVista PD Tac 2 | Police Tactical 2 | Law Tac |
| 4037 | fc5 | D | La Vista Citywd | Citywide | Multi-Tac |
Papillion Talkgroups
| DEC | HEX | Mode | Alpha Tag | Description | Tag |
| --- | --- | --- | --- | --- | --- |
| 4032 | fc0 | D | Papillion PD T1 | Police Tac 1 | Law Tac |
| 4205 | 106d | DE | Papillion PD T2 | Police Tac 2 | Law Talk |
| 4190 | 105e | D | Papillion FD St1 | Fire Station 1 | Fire Dispatch |
| 4191 | 105f | D | Papillion FD St2 | Fire Station 2 | Fire Dispatch |
| 4192 | 1060 | D | Papillion FD St3 | Fire Station 3 | Fire Dispatch |
| 4193 | 1061 | D | Papillion FD St4 | Fire Station 4 | Fire Dispatch |
| 4031 | fbf | D | Papillion Citywd | Citywide | Multi-Tac |
| 4054 | fd6 | D | CHI Midlands | CHI Midlands | Hospital |
| 4110 | 100e | D | PapillionPubWrks | Public Works (Streets/Water/Sewer) | Public Works |
Washington County Talkgroups
| DEC | HEX | Mode | Alpha Tag | Description | Tag |
| --- | --- | --- | --- | --- | --- |
| 2001 | 7d1 | T | WC LE 1 Disp | Law Enforcement Dispatch | Law Dispatch |
| 2002 | 7d2 | D | WC LE 2 Tac | Law Enforcement Tactical | Law Tac |
| 2003 | 7d3 | TE | WC LE 3 ENC | Law Enforcement Secure | Law Tac |
| 2004 | 7d4 | T | WCSO Jail | Sheriff Jail | Corrections |
| 2005 | 7d5 | D | WCSO Court Sec | Sheriff Courthouse Security | Security |
| 2108 | 83c | DE | WC Secure | County Secure | Law Tac |
| 2020 | 7e4 | D | WCSO Traffic | Sheriff Traffic | Law Tac |
| 2007 | 7d7 | D | WC Fire/LE | Fire/LE | Multi-Tac |
| 2011 | 7db | D | WC 911 | County 911 | Emergency Ops |
| 2049 | 801 | D | WCFD Disp | Fire Dispatch | Fire Dispatch |
| 2050 | 802 | D | WCFD F/G 2 | Fireground 2 | Fire-Tac |
| 2051 | 803 | D | WCFD F/G 3 | Fireground 3 | Fire-Tac |
| 2052 | 804 | D | WCFD F/G 4 | Fireground 4 | Fire-Tac |
| 2053 | 805 | D | WCFD FG5/Train 1 | Fireground 5/Training 1 | Fire-Tac |
| 2054 | 806 | T | WCFD FG6/Train 2 | Fireground 6/Training 2 | Fire-Tac |
| 2055 | 807 | D | WCFD Train 3 | Fire Training 3 | Fire-Tac |
| 2056 | 808 | D | WCFD MedHelo | Med Helo | EMS-Talk |
| 2057 | 809 | D | WCFD Tankers | Tanker Ops | Fire-Tac |
| 2044 | 7fc | D | WCFD Kennard | Kennard Fire Admin | Fire-Tac |
| 2012 | 7dc | D | WC EmergMgmt | Emergency Management | Emergency Ops |
| 2014 | 7de | D | WC Common 1 | County Common 1 | Multi-Tac |
| 2015 | 7df | D | WC Common 2 | County Common 2 | Multi-Tac |
| 2016 | 7e0 | D | WC Common 3 | County Common 3 | Multi-Tac |
| 2017 | 7e1 | D | WC Common 4 | County Common 4 | Multi-Tac |
| 2025 | 7e9 | D | WC CountyGov | County Government | Public Works |
| 2024 | 7e8 | D | WC Roads | County Roads | Public Works |
| 2023 | 7e7 | D | Her/Ken Util | E04 Herman / Kennard Utilities | Utilities |
| 2026 | 7ea | D | WC Util Cmn | E07 County Utilities Common | Utilities |
| 2065 | 811 | D | WC Schls Cmn | Washington County Schools Common | Schools |
| 2063 | 80f | D | H/I Schools | Herman / Immanuel Schools | Schools |
Arlington Talkgroups
| DEC | HEX | Mode | Alpha Tag | Description | Tag |
| --- | --- | --- | --- | --- | --- |
| 2040 | 7f8 | D | Arlington FD Adm | Fire Administration | Fire-Tac |
| 2021 | 7e5 | D | Arlington Util | Utilities | Utilities |
| 2060 | 80c | D | Arlington School | Arlington / St Paul Schools | Schools |
Blair Talkgroups
| DEC | HEX | Mode | Alpha Tag | Description | Tag |
| --- | --- | --- | --- | --- | --- |
| 2101 | 835 | D | Blair Police | Police | Law Tac |
| 2006 | 7d6 | D | Blair Police Trf | Police Traffic | Law Tac |
| 2013 | 7dd | D | Blair Utilities | Utilities | Utilities |
| 2061 | 80d | D | Blair Sch Admin | School Administration | Schools |
| 2062 | 80e | DE | Blair Sch Transp | School Transportation | Schools |
Fort Calhoun Talkgroups
| DEC | HEX | Mode | Alpha Tag | Description | Tag |
| --- | --- | --- | --- | --- | --- |
| 2042 | 7fa | D | FtC FD Admin | Fire Administration | Fire-Tac |
| 2022 | 7e6 | D | FtC Utilities | Utilities | Utilities |
| 2070 | 816 | D | FtC Sch Disp | School Dispatch | Schools |
Offutt Air Force Base Talkgroups
| DEC | HEX | Mode | Alpha Tag | Description | Tag |
| --- | --- | --- | --- | --- | --- |
| 339 | 153 | T | Erling Berquist | Erling Berquist Clinic | Hospital |
Hospitals Talkgroups
| DEC | HEX | Mode | Alpha Tag | Description | Tag |
| --- | --- | --- | --- | --- | --- |
| 331 | 14b | D | Creighton | Creighton | Hospital |
| 332 | 14c | D | Nebraska Medicin | Nebraska Medicine | Hospital |
| 333 | 14d | D | Bergan Mercy | Bergan Mercy | Hospital |
| 334 | 14e | D | Methodist | D06 Methodist | Hospital |
| 335 | 14f | D | Children's | D07 Children's | Hospital |
| 336 | 150 | D | Immanuel | D08 Immanuel | Hospital |
| 337 | 151 | D | Lakeside | D09 Lakeside | Hospital |
| 338 | 152 | D | Midlands | D10 Midlands | Hospital |
| 382 | 17e | D | Clarkson | D04 Clarkson | Hospital |
| 383 | 17f | D | Mercy | E04 Mercy | Hospital |
| 384 | 180 | D | Blair | E05 Blair | Hospital |
| 385 | 181 | D | Fremont | E06 Fremont | Hospital |
| 386 | 182 | D | Hosp Common | D11 Hospital Common | Hospital |
| 402 | 192 | D | Alegent Hlth | Alegent Health System | Hospital |
| 403 | 193 | D | Methodist | Methodist Hospital | Hospital |
| 404 | 194 | D | Nebraska Medical | Nebraska Medical Center | Hospital |
| 406 | 196 | D | VA | VA Medical Center | Hospital |
| 407 | 197 | D | Methodist W | Methodist Women's Hospital | Hospital |
Metro Transit Talkgroups
Metro Transit operates Omaha-Council Bluffs metropolitan area including Bellevue, Ralston, LaVista and Papillion
| DEC | HEX | Mode | Alpha Tag | Description | Tag |
| --- | --- | --- | --- | --- | --- |
| 806 | 326 | D | DC MAT 1 | MAT 1 | Transportation |
| 807 | 327 | D | DC MAT 2 | MAT 2 | Transportation |
| 808 | 328 | T | DC MAT 3 | MAT 3 | Transportation |
| 809 | 329 | D | DC MAT 4 | MAT 4 | Transportation |
| 802 | 322 | D | DC MAT Traff | Traffic (Dispatcher to regular route buses) | Transportation |
| 803 | 323 | D | DC MAT Moby | Moby (Paratransit vans and smaller buses) | Transportation |
| 804 | 324 | D | DC MAT Maint | Maintenance | Transportation |
| 805 | 325 | D | DC MAT Supv | Supervisors | Transportation |
| 810 | 32a | D | DC MAT Emerg | Emergency | Transportation |
Metropolitan Utilities District Talkgroups
| DEC | HEX | Mode | Alpha Tag | Description | Tag |
| --- | --- | --- | --- | --- | --- |
| 900 | 384 | D | MUD Ops 900 | Operations | Utilities |
| 901 | 385 | D | MUD Ops 901 | Operations | Utilities |
| 903 | 387 | T | MUD Security | Security | Security |
Omaha Public Power District Talkgroups
| DEC | HEX | Mode | Alpha Tag | Description | Tag |
| --- | --- | --- | --- | --- | --- |
| 1501 | 5dd | D | OPPD Disp 1 | Dispatch 1 (Metro) | Utilities |
| 1502 | 5de | D | OPPD Disp 2 | Dispatch 2 (South Rural) | Utilities |
| 1503 | 5df | D | OPPD Omaha | Omaha Center | Utilities |
| 1504 | 5e0 | D | OPPD OmaStrm | Storm - Omaha | Utilities |
| 1505 | 5e1 | D | OPPD OmaWire | Wire Down Omaha | Utilities |
| 1506 | 5e2 | D | OPPD Papilln | Papillion Center | Utilities |
| 1507 | 5e3 | D | OPPD PapStrm | Storm - Papillion | Utilities |
| 1508 | 5e4 | D | OPPD PapWire | Wire Down Papillion | Utilities |
| 1509 | 5e5 | D | OPPD Syracus | Syracuse Office | Utilities |
| 1510 | 5e6 | D | OPPD Ashland | Ashland Office | Utilities |
| 1511 | 5e7 | D | OPPD Louisvl | Louisville Office | Utilities |
| 1512 | 5e8 | D | OPPD Tecumsh | Tecumseh Office | Utilities |
| 1513 | 5e9 | D | OPPD Humbold | Humboldt Office | Utilities |
| 1514 | 5ea | D | OPPD Elkhorn | Elkhorn Center | Utilities |
| 1515 | 5eb | D | OPPD Blair | Blair Office | Utilities |
| 1516 | 5ec | D | OPPD N Bend | North Bend Office | Utilities |
| 1517 | 5ed | T | OPPD Trouble | Trouble Desk | Utilities |
| 1518 | 5ee | D | OPPD DistSvc | Distribution Services | Utilities |
| 1519 | 5ef | D | OPPD Meter | Metering | Utilities |
| 1520 | 5f0 | D | OPPD Misc | Miscellaneous (Substations) | Utilities |
| 1521 | 5f1 | D | OPPD Work 1 | Work Channel 1 (Omaha) | Utilities |
| 1522 | 5f2 | D | OPPD Work 2 | Work Channel 2 (Papillion) | Utilities |
| 1523 | 5f3 | D | OPPD Work 3 | Work Channel 3 (Syracuse) | Utilities |
| 1524 | 5f4 | D | OPPD Work 4 | Work Channel 4 (Elkhorn) | Utilities |
| 1525 | 5f5 | D | OPPD Work 5 | Work Channel 5 (Spare) | Utilities |
| 1531 | 5fb | D | OPPD LCrews? | Line Crews? | Utilities |
| 1541 | 605 | D | OPPD Sec1541 | Security 1541 | Security |
| 1546 | 60a | D | OPPD Sec1546 | Security 1546 | Security |
| 1548 | 60c | D | OPPD Sec1548 | Security 1548 | Security |
| 1552 | 610 | D | Ft Calhoun IT | Fort Calhoun Station - Information Technology | Utilities |
| 1559 | 617 | D | OPPD En Mktg | Energy Marketing | Utilities |
| 1561 | 619 | D | OPPD Disp | Dispatch | Utilities |
| 1562 | 61a | De | Ft Calhoun SEC 1 | Fort Calhoun Station - Security 1 | Security |
| 1563 | 61b | De | Ft Calhoun SEC 2 | Fort Calhoun Station - Security 2 | Security |
| 1565 | 61d | D | Ft Calhoun Ops | Fort Calhoun Station - Operations | Utilities |
| 1566 | 61e | D | Ft Calhoun Maint | Fort Calhoun Station - Maintenance | Utilities |
| 1570 | 622 | D | Ft Calhoun Ops | Fort Calhoun Station - Operations | Utilities |
| 1575 | 627 | D | OPPD Sec1575 | Security 1575 | Security |
Miscellaneous Talkgroups
| DEC | HEX | Mode | Alpha Tag | Description | Tag |
| --- | --- | --- | --- | --- | --- |
| 210 | 0d2 | D | LifeNet Helo | Air Methods (LifeNet) | EMS Dispatch |
| 675 | 2a3 | D | Media? 675 | News Media? | Media |
| 701 | 2bd | D | Neb NatGuard | Nebraska National Guard | Military |
| 702 | 2be | D | NSP Troop A | Nebraska State Patrol Troop A Dispatch | Law Dispatch |
Radio Maintenance Talkgroups
| DEC | HEX | Mode | Alpha Tag | Description | Tag |
| --- | --- | --- | --- | --- | --- |
| 1001 | 3e9 | D | ORION Radio 1 | Radio Maintenance 1 | Public Works |
| 1002 | 3ea | D | ORION Radio 2 | Radio Maintenance 2 | Public Works |
| 1003 | 3eb | D | ORION Radio 3 | Radio Maintenance 3 | Public Works |
| 1004 | 3ec | D | ORION Radio 4 | Radio Maintenance 4 | Public Works |
| 1005 | 3ed | D | ORION Radio 5 | Radio Maintenance 5 | Public Works |