Omaha Regional Interoperability Network (ORION)
Important Note
Some talkgroups on this system are using Project 25 Phase II TDMA modulation which can ONLY be monitored using a P25 Phase II compatible scanner.
Please visit the
RR Wiki Project 25 page
for additional information.
System ID List

| System ID | WACN |
| --- | --- |
| HEX: 144 | BEE00 |
Latest News Update Posted on 2016-11-16 14:03:42
Fremont Police have joined the ORION system. Currently one talkgroup is reported to be APCO25 Phase 2 and is operating as part of the Washington County Simulcast site.

On any submissions to the database, please note if the talkgroup is Phase 1 or Phase 2 as this will have a difference on scanning and decoding for Phase 2 capable scanners.
Click Here to Display All Past News Updates (6 Total)
Misc System Information
City police departments dispatched by Douglas County Sheriff: Bennington, Boys Town, Elkhorn, Ralston, Valley, and Waterloo.

Volunteer fire departments dispatched by Douglas County using this system: Bennington, Boys Town, Elkhorn, Irvington, Ponca Hills, Ralston, Valley, and Waterloo.

NPSPAC Frequencies are programmed in every Public Service radio (Repeater locations in Parentheses):

851.0125 156.7 PL "C11 - NPSAC Calling" (1103 N. 40th Street and 156th & Maple)
851.5125 156.7 PL "C12 - NPSAC TAC 1" (1103 N. 40th Street)
852.0125 156.7 PL "C13 - NPSAC TAC 2" (156th & Maple)
852.5125 156.7 PL "C14 - NPSAC TAC 3" (3200 Joshua Road)
853.0125 156.7 PL "C15 - NPSAC TAC 4" (2808 B Street)

Omaha Police Beat Map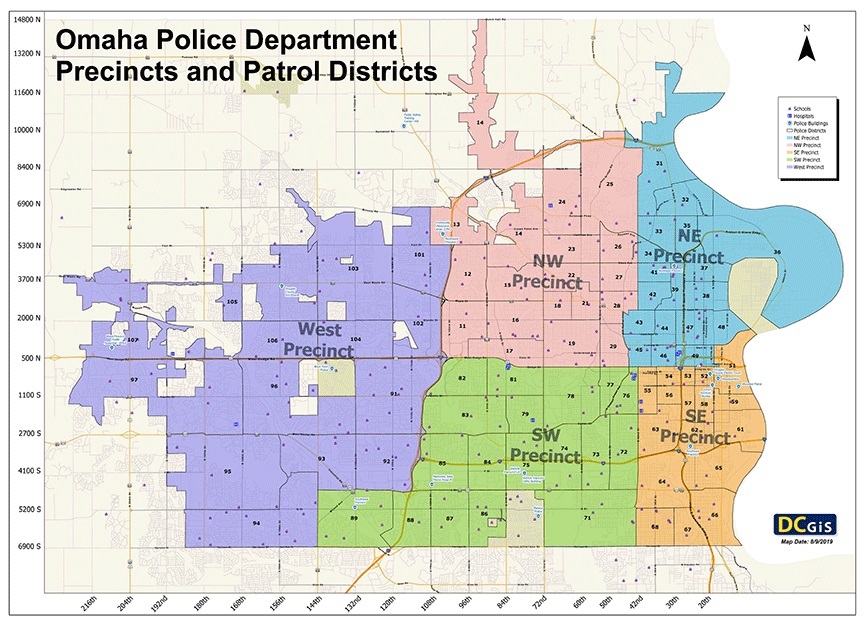 Douglas County Districts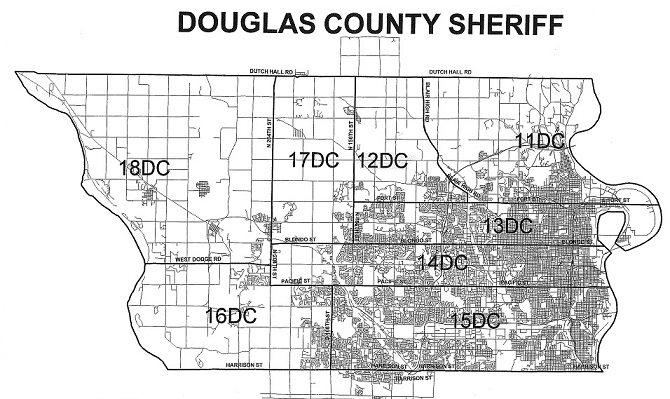 System Frequencies
Red (c)
are primary control channels |
Blue (a)
are alternate control channels | Site Map(s):
FCC Callsigns
RR Locations
| RFSS | Site | Name | County | Freqs | | | | | | |
| --- | --- | --- | --- | --- | --- | --- | --- | --- | --- | --- |
| 1 (1) | 001 (1) | Douglas County | Douglas, NE | 851.2375 | 851.275 | 851.5375 | 851.5625 | 851.5875 | 851.7875 | 851.950 |
| | | | | 852.225 | 852.4125 | 852.5875 | 852.7125 | 852.9625a | 853.2125 | 853.450 |
| | | | | 853.475 | 853.5125 | 853.700 | 853.725a | 853.7625c | 853.950a | |
| 1 (1) | 002 (2) | Elkhorn | Douglas, NE | 855.3625 | 855.4875 | 855.9625 | 856.4375 | 856.9375 | 857.4375 | 857.9375 |
| | | | | 858.2875 | 858.3125 | 858.4375 | 858.4875a | 858.9375 | 859.2875 | 859.3125 |
| | | | | 859.3375a | 859.4375 | 859.4875 | 859.9375 | 860.3375c | 860.4375 | 860.4875 |
| | | | | 860.9375 | | | | | | |
| 1 (1) | 003 (3) | Blair | Washington, NE | 855.3625 | 855.4875 | 855.9625 | 856.4375 | 856.9375 | 857.4375 | 857.4625 |
| | | | | 857.9375 | 857.9625a | 858.2125a | 858.2875 | 858.4375 | 858.4625a | 858.4875 |
| | | | | 858.7125c | 858.9375 | 859.2875 | 859.4375 | 859.4875 | 859.9375 | 860.4375 |
| | | | | 860.4875 | 860.9375 | | | | | |
| 1 (1) | 004 (4) | Gretna | Sarpy, NE | 851.1375 | 855.3625 | 855.4875 | 855.9625 | 856.4375 | 856.9375 | 857.4375 |
| | | | | 857.9375 | 858.2875 | 858.3125a | 858.4375 | 858.4875 | 858.9375 | 859.2875 |
| | | | | 859.3125a | 859.3375 | 859.4375 | 859.4875a | 859.9375 | 860.3375 | 860.4375c |
| | | | | 860.4875 | 860.9375 | | | | | |
| 1 (1) | 005 (5) | Julian | Nemaha, NE | 854.8875a | 855.4875 | 855.9625 | 856.3125a | 856.4375 | 856.9375 | 857.4375 |
| | | | | 857.9375 | 858.2875 | 858.3125 | 858.4375 | 858.4875 | 858.9375 | 859.2875 |
| | | | | 859.3125 | 859.3375 | 859.4375 | 859.4875 | 859.9375 | 860.3375 | 860.4375 |
| | | | | 860.4875c | 860.9375 | | | | | |
| 1 (1) | 006 (6) | Murray | Cass, NE | 851.1125 | 855.4875 | 855.9625 | 856.4375 | 856.9375 | 857.4375 | 857.9375 |
| | | | | 858.2875 | 858.3125 | 858.4375a | 858.4875 | 858.9375 | 859.2875a | 859.3125 |
| | | | | 859.3375 | 859.4375c | 859.4875 | 859.9375 | 860.3375 | 860.4375 | 860.4875 |
| | | | | 860.9375 | | | | | | |
| 1 (1) | 007 (7) | Omaha | Douglas, NE | 855.4875 | 855.9625 | 856.4375a | 856.9375a | 857.4375a | 857.9375c | 858.2875 |
| | | | | 858.4375 | 858.4875 | 858.9375 | 859.2875 | 859.4375 | 859.4875 | 859.9375 |
| | | | | 860.4375 | 860.4875 | 860.9375 | | | | |
| 1 (1) | 008 (8) | Syracuse | Otoe, NE | 851.375 | 854.8875 | 855.3625 | 855.4875 | 855.9625 | 856.3125 | 856.4375 |
| | | | | 856.7625 | 856.9375 | 857.4375 | 857.9375 | 858.2875 | 858.3125 | 858.4375 |
| | | | | 858.4875 | 858.9375a | 859.2875 | 859.3125 | 859.3375 | 859.4375 | 859.4875 |
| | | | | 859.9375c | 860.3375 | 860.4375 | 860.4875 | 860.9375a | | |
| 1 (1) | 009 (9) | Barada | Richardson, NE | 855.4875 | 855.9625a | 856.4375c | 856.7625 | 856.9375 | 857.4375 | 857.9375 |
| | | | | 858.4375 | 858.9375 | 859.4375 | 859.9375 | 860.4375 | 860.9375 | |
| 1 (1) | 010 (A) | Cedar Bluffs | Saunders, NE | 854.8875 | 855.3625 | 855.4875 | 855.9625 | 856.3125a | 856.4375 | 856.7625 |
| | | | | 856.9375 | 857.4375 | 857.9375 | 858.2875 | 858.3125 | 858.4375 | 858.4875 |
| | | | | 858.9375 | 859.2875 | 859.3125 | 859.3375 | 859.4375 | 859.4875 | 859.9375 |
| | | | | 860.3375 | 860.4375 | 860.4875c | 860.9375 | | | |
| 1 (1) | 011 (B) | Steinauer | Pawnee, NE | 855.9625 | 856.4375 | 856.4875 | 856.7625 | 856.9375 | 857.4375 | 857.4875 |
| | | | | 857.9375a | 858.4375 | 858.4875c | 858.9375 | 859.4375 | 859.4875 | 859.9375 |
| | | | | 860.4375 | 860.4875 | 860.9375 | | | | |
| 1 (1) | 012 (C) | Telbasta | Washington, NE | 855.4875 | 855.5875 | 855.9625 | 856.4375 | 856.8125a | 856.9375 | 857.4375 |
| | | | | 857.9375 | 858.2875 | 858.3125 | 858.4375 | 858.4875 | 858.9375 | 859.2875 |
| | | | | 859.3125 | 859.3375 | 859.4125c | 859.4375 | 859.4875 | 859.9375 | 860.3375 |
| | | | | 860.4375 | 860.4875 | 860.9375 | | | | |
| 1 (1) | 014 (E) | Pottawattamie County | Pottawattamie, IA | 854.0625 | 854.5625 | 856.2625 | 856.7375 | 857.2625 | 857.7375 | 858.2625a |
| | | | | 858.7375a | 859.2625c | 859.7375a | | | | |
| 1 (1) | 015 (F) | Washington County/Fremont | Washington, NE | 851.100 | 851.4125a | 851.7625 | 853.425 | 854.7375a | 856.1875c | 857.1875a |
| 1 (1) | 024 (18) | Sarpy County | Sarpy, NE | 854.6125 | 855.1375 | 855.3875 | 855.7125 | 856.2375 | 856.8375 | 857.2375 |
| | | | | 857.9875 | 858.2375a | 858.9875a | 859.2375a | 859.7875c | | |
System Talkgroups
Mutual Aid Talkgroups
| DEC | HEX | Mode | Alpha Tag | Description | Tag |
| --- | --- | --- | --- | --- | --- |
| 212 | 0d4 | D | Dispatch Com | Dispatch Common | Multi-Dispatch |
| 200 | 0c8 | D | Metro 1 | Metro 1 | Multi-Tac |
| 201 | 0c9 | D | Metro 2 | Metro 2 | Multi-Tac |
| 202 | 0ca | D | Metro 3 | Metro 3 | Multi-Tac |
| 203 | 0cb | D | Metro 4 | Metro 4 | Multi-Tac |
| 204 | 0cc | D | Metro 5 | Metro 5 | Multi-Tac |
| 205 | 0cd | D | Metro 6 | Metro 6 | Multi-Tac |
| 206 | 0ce | D | Metro 7 | Metro 7 | Multi-Tac |
| 211 | 0d3 | DE | Metro 1 ENC | Metro 1 Encrypted | Multi-Tac |
| 213 | 0d5 | DE | Metro 2 ENC | Metro 2 Encrypted | Multi-Tac |
| 214 | 0d6 | DE | Metro 3 ENC | Metro 3 Encrypted | Multi-Tac |
| 215 | 0d7 | DE | Metro 4 ENC | Metro 4 Encrypted | Multi-Tac |
| 216 | 0d8 | DE | Metro 5 ENC | Metro 5 Encrypted | Multi-Tac |
| 217 | 0d9 | DE | Metro 6 ENC | Metro 6 Encrypted | Multi-Tac |
| 218 | 0da | DE | Metro 7 ENC | Metro 7 Encrypted | Multi-Tac |
| 342 | 156 | D | Metro Helo | Metro Helicopter | EMS-Tac |
Dodge County Talkgroups
| DEC | HEX | Mode | Alpha Tag | Description | Tag |
| --- | --- | --- | --- | --- | --- |
| 2180 | 884 | T | Dodge Co Sheriff | Sheriff Dispatch | Law Dispatch |
Fremont Talkgroups
| DEC | HEX | Mode | Alpha Tag | Description | Tag |
| --- | --- | --- | --- | --- | --- |
| 2168 | 878 | D | FremontPD/FD | Police/Fire Interoperbility | Interop |
| 2150 | 866 | T | Fremont PD 1 | Police - Dispatch | Law Dispatch |
| 2151 | 867 | D | Fremont PD 2 | Police - Records | Law Talk |
| 2152 | 868 | DE | Fremont PD 3 | Police - Secure | Law Talk |
| 2153 | 869 | T | Fremont PD 4 | Police - Event 4 | Law Talk |
| 2154 | 86a | D | Fremont PD 5 | Police - Event 5 | Law Talk |
| 2155 | 86b | D | Fremont PD 6 | Police - Event 6 | Law Talk |
| 2156 | 86c | D | Fremont PD 7 | Police - Event 7 | Law Talk |
| 2160 | 870 | T | Fremont FD 1 | Fire - Dispatch | Fire Dispatch |
| 2166 | 876 | D | Fremont FD 2 | Fire - EMS Tac 2 | Fire-Tac |
| 2167 | 877 | D | Fremont FD 3 | Fire - EMS Tac 3 | Fire-Tac |
| 2161 | 871 | D | Fremont FD 4 | Fire - Fireground 4 | Fire-Tac |
| 2162 | 872 | D | Fremont FD 5 | Fire - Fireground 5 | Fire-Tac |
| 2163 | 873 | D | Fremont FD 6 | Fire - Fireground 6 | Fire-Tac |
| 2164 | 874 | D | Fremont FD 7 | Fire - Fireground 7 | Fire-Tac |
| 2165 | 875 | D | Fremont FD 8 | Fire - Fireground 8 | Fire-Tac |
| 2158 | 86e | D | Fremont EMA | Emergency Management | Emergency Ops |
| 2159 | 86f | D | Fremont 911 | 911 | Emergency Ops |
Douglas County Talkgroups
| DEC | HEX | Mode | Alpha Tag | Description | Tag |
| --- | --- | --- | --- | --- | --- |
| 625 | 271 | D | DC LE | Countywide Law Enforcement | Law Dispatch |
| 2 | 002 | T | DCSO Disp | Sheriff - Dispatch | Law Dispatch |
| 3 | 003 | DE | DCSO Records | Sheriff - Records | Law Tac |
| 10 | 00a | D | DCSO Rural PD | Sheriff - Rural Police | Law Tac |
| 11 | 00b | D | DCSO Court | Sheriff - Courthouse Dispatch | Law Tac |
| 28 | 01c | D | DCSO CIB | Sheriff - Criminal Investagations | Law Tac |
| 12 | 00c | D | DCSO Civic | Sheriff - Civic Center | Law Tac |
| 19 | 013 | D | DCSO Event 1 | Sheriff - Event 1 | Law Tac |
| 20 | 014 | D | DCSO Event 2 | Sheriff - Event 2 | Law Tac |
| 21 | 015 | D | DCSO Event 3 | Sheriff - Event 3 | Law Tac |
| 25 | 019 | D | DCSO Event 4 | Sheriff - Event 4 | Law Tac |
| 22 | 016 | D | DCSO Event 5 | Sheriff - Event 5/Training 1 | Law Tac |
| 23 | 017 | D | DCSO Event 6 | Sheriff - Event 6/Training 2 | Law Tac |
| 109 | 06d | TE | DCSO Secure | Sheriff - Secure | Law Tac |
| 272 | 110 | D | DC 911 Training | 911 Dispatcher Incident Training | Multi-Tac |
| 150 | 096 | T | DCCC 01 Centrl | Correctional Center - Central Control | Corrections |
| 152 | 098 | D | DCCC 03 Admin | Correctional Center - Administration | Corrections |
| 153 | 099 | D | DCCC 04 Progra | Correctional Center - Programs | Corrections |
| 154 | 09a | D | DCCC 05 Commun | Correctional Center - Community | Corrections |
| 155 | 09b | D | DCCC 05 WorkRl | Correctional Center - Work Release | Corrections |
| 156 | 09c | D | DCCC 07 Supprt | Correctional Center - Support | Corrections |
| 157 | 09d | T | DCCC 08 OldSde | Correctional Center - Old Side | Corrections |
| 158 | 09e | T | DCCC 09 Annex | Correctional Center - Annex | Corrections |
| 151 | 097 | T | DCCC 10 NewSde | Correctional Center - New Side | Corrections |
| 160 | 0a0 | D | DCCC 12 Bookng | Correctional Center - Booking | Corrections |
| 161 | 0a1 | D | DCCC 13 Common | Correctional Center - Common | Corrections |
| 159 | 09f | D | DCCC Day Report | Correctional Center - Day Reporting Control | Corrections |
| 162 | 0a2 | D | DCCC Training | Correctional Center - Training | Corrections |
| 166 | 0a6 | D | DCCC 166 | Correctional Center (166) | Corrections |
| 175 | 0af | D | DCCC Food/San | Correctional Center - Food Service / Sanitation | Corrections |
| 176 | 0b0 | D | DCCC Emergency | Correctional Center - Emergency | Corrections |
| 481 | 1e1 | DE | DC Fire ENC | Fire Encrypted | Fire-Tac |
| 484 | 1e4 | DE | DC Fire 911 | Fire 911 | Fire-Tac |
| 485 | 1e5 | DE | DC Fire Admin | Fire Admin | Fire-Tac |
| 486 | 1e6 | DE | DC Fire/SO Talk | Fire/Sheriff Talk | Fire-Talk |
| 220 | 0dc | D | DC Firecom | Firecom | Fire Dispatch |
| 459 | 1cb | D | DC Fire Comm | Fire Comm | Business |
| 496 | 1f0 | D | DC Fire Station | Fire Station Announcements | Fire Dispatch |
| 497 | 1f1 | D | DC EMS Dispatch | EMS Dispatch | EMS Dispatch |
| 252 | 0fc | D | DCEM EOC Call | EOC Calling | Emergency Ops |
| 247 | 0f7 | D | DCEM Event 1 | DCEM Event 1 | Emergency Ops |
| 248 | 0f8 | D | DCEM Event 2 | DCEM Event 2 | Emergency Ops |
| 262 | 106 | D | DCEM OMMRS Ctrl | OMMRS Control | Emergency Ops |
| 263 | 107 | D | DCEM OMMRS 1 | OMMRS Event 1 | Emergency Ops |
| 264 | 108 | D | DCEM OMMRS 2 | OMMRS Event 2 | Emergency Ops |
| 265 | 109 | D | DCEM OMMRS 4 | OMMRS Event 3 | Emergency Ops |
| 266 | 10a | D | DCEM OMMRS 4 | OMMRS Event 4 | Emergency Ops |
| 250 | 0fa | D | DCEM Health Call | Health Calling | Emergency Ops |
| 254 | 0fe | D | DCEM Health 1 | Health Event 1 | Emergency Ops |
| 255 | 0ff | D | DCEM Health 2 | Health Event 2 | Emergency Ops |
| 256 | 100 | D | DCEM Health 3 | Health Event 3 | Emergency Ops |
| 257 | 101 | D | DCEM Health 4 | Health Event 4 | Emergency Ops |
| 251 | 0fb | D | DCEM Health Cmn | Health Common | Emergency Ops |
| 259 | 103 | DE | DCEM Hops/Health | Hospital/Health Secure | Emergency Ops |
| 207 | 0cf | D | DCEM MedGtwy 1 | Medical Gateway 1 | Emergency Ops |
| 208 | 0d0 | D | DCEM MedGtwy 2 | Medical Gateway 2 | Emergency Ops |
| 209 | 0d1 | D | DCEM MedGtwy 3 | Medical Gateway 3 | Emergency Ops |
| 258 | 102 | DE | DCEM Hosp ENC | Hospital Secure | Emergency Ops |
| 253 | 0fd | D | DCEM Poison Cntr | Poison Control | Emergency Ops |
| 260 | 104 | D | DCEM ARC Blood | Red Cross Blood Bank | Emergency Ops |
| 249 | 0f9 | DE | DCEM ENC 249 | Unknown Secure (249) | Emergency Ops |
| 261 | 105 | D | DCEM Med 261 | Medical (261) | Emergency Ops |
| 33 | 021 | D | DC Event 1 | Event 1 | Multi-Tac |
| 34 | 022 | D | DC Event 2 | Event 2 | Multi-Tac |
| 35 | 023 | D | DC Event 3 | Event 3 | Multi-Tac |
| 36 | 024 | D | DC Event 4 | Event 4 | Multi-Tac |
| 57 | 039 | D | DC Court Mtce | Courthouse Maintenance | Public Works |
| 760 | 2f8 | D | DC Roads | County Roads Department | Public Works |
Bennington Talkgroups
| DEC | HEX | Mode | Alpha Tag | Description | Tag |
| --- | --- | --- | --- | --- | --- |
| 71 | 047 | D | Benn PD/FD | Police/Fire | Multi-Dispatch |
| 72 | 048 | D | Benn Event 1 | Event 1 | Multi-Tac |
| 73 | 049 | D | Benn Event 2 | Event 2 | Multi-Tac |
Boys Town Talkgroups
| DEC | HEX | Mode | Alpha Tag | Description | Tag |
| --- | --- | --- | --- | --- | --- |
| 65 | 041 | D | Boys Police | Police | Law Dispatch |
| 66 | 042 | D | Boys Event 1 | Event 1 | Multi-Tac |
| 67 | 043 | D | Boys Event 2 | Event 2 | Multi-Tac |
Irvington Talkgroups
Irvington is located in Douglas County, Nebraska
| DEC | HEX | Mode | Alpha Tag | Description | Tag |
| --- | --- | --- | --- | --- | --- |
| 367 | 16f | D | Irvington Fire | Fire (A12) | Fire-Tac |
Omaha - Fire Talkgroups
| DEC | HEX | Mode | Alpha Tag | Description | Tag |
| --- | --- | --- | --- | --- | --- |
| 442 | 1ba | D | OFD Station Page | Station Paging | Fire Dispatch |
| 443 | 1bb | T | OFD Dispatch | Dispatch | Fire Dispatch |
| 458 | 1ca | T | OFD VFD Dispatch | VFD Dispatch | Fire Dispatch |
| 444 | 1bc | T | OFD TAC 3 | TAC 3 | Fire-Tac |
| 445 | 1bd | D | OFD TAC 4 | TAC 4 | Fire-Tac |
| 446 | 1be | D | OFD TAC 5 | TAC 5 | Fire-Tac |
| 447 | 1bf | D | OFD TAC 6 | TAC 6 | Fire-Tac |
| 448 | 1c0 | D | OFD TAC 7 | TAC 7 | Fire-Tac |
| 449 | 1c1 | D | OFD TAC 8 | TAC 8 | Fire-Tac |
| 450 | 1c2 | D | OFD TAC 9 | TAC 9 | Fire-Tac |
| 451 | 1c3 | D | OFD TAC 10 | TAC 10 | Fire-Tac |
| 452 | 1c4 | D | OFD TAC 11 | TAC 11 | Fire-Tac |
| 453 | 1c5 | D | OFD TAC 12 | TAC 12 | Fire-Tac |
| 454 | 1c6 | D | OFD TAC 13 | TAC 13 | Fire-Tac |
| 455 | 1c7 | D | OFD TAC 14 | TAC 14 | Fire-Tac |
| 456 | 1c8 | D | OFD TAC 15 | TAC 15 | Fire-Tac |
| 299 | 12b | D | OFD Stations | Station Intercomm System | Fire-Tac |
| 302 | 12e | D | OFD RIT | A14 City Fire Rapid Intervention Team (RIT) | Fire-Tac |
| 306 | 132 | D | OFD HazMat | A12 Hazmat Common | Fire-Tac |
| 330 | 14a | D | OFD 911 Fire | A16 911 Fire | Fire-Tac |
| 389 | 185 | D | OFD Arson | D14 Arson Investigation | Fire-Tac |
| 388 | 184 | D | OFD Arson | Arson Investigation | Fire-Tac |
| 221 | 0dd | D | OFD Training 221 | Training | Fire-Talk |
| 222 | 0de | D | OFD Training 222 | Training | Fire-Talk |
| 223 | 0df | D | OFD Training 223 | Training | Fire-Talk |
| 224 | 0e0 | D | OFD Training 224 | Training | Fire-Talk |
| 225 | 0e1 | D | OFD Training 225 | Training | Fire-Tac |
| 474 | 1da | DE | OFD TAC 2 ENC | TAC 2 Encrypted | Fire-Tac |
| 475 | 1db | DE | OFD TAC 3 ENC | TAC 3 Encrypted | Fire-Tac |
| 476 | 1dc | DE | OFD TAC 4 ENC | TAC 4 Encrypted | Fire-Tac |
| 477 | 1dd | DE | OFD TAC 5 ENC | TAC 5 Encrypted | Fire-Tac |
| 478 | 1de | DE | OFD TAC 6 ENC | TAC 6 Encrypted | Fire-Tac |
| 479 | 1df | DE | OFD Admin | Admin | Fire-Tac |
| 480 | 1e0 | DE | OFD Investigatrs | Investigators | Fire-Tac |
| 482 | 1e2 | DE | OFD Fire/PD Talk | Fire/PD Talk | Fire-Talk |
| 483 | 1e3 | DE | OFD Fire 911 ENC | Fire 911 Encrypted | Fire-Tac |
| 487 | 1e7 | DE | OFD FD/SO Talk | Fire/County Sheriff Talk | Fire-Talk |
Omaha - Police Talkgroups
| DEC | HEX | Mode | Alpha Tag | Description | Tag |
| --- | --- | --- | --- | --- | --- |
| 4 | 004 | T | OPD W Disp | West Dispatch | Law Dispatch |
| 5 | 005 | T | OPD NW Disp | Northwest Dispatch | Law Dispatch |
| 6 | 006 | T | OPD NE Disp | Northeast Dispatch | Law Dispatch |
| 7 | 007 | T | OPD SE Disp | Southeast Dispatch | Law Dispatch |
| 8 | 008 | T | OPD SW Disp | Southwest Dispatch | Law Dispatch |
| 601 | 259 | TE | OPD Info 601 | Information (601) | Law Talk |
| 681 | 2a9 | D | OPD LE 8 | Police 8 | Law Tac |
| 604 | 25c | D | OPD CIB | Criminal Investagations | Law Tac |
| 605 | 25d | D | OPD CSI | Crime Scene | Law Tac |
| 610 | 262 | D | OPD 911 Law | 911 - Police | Law Tac |
| 611 | 263 | D | OPD Event 1 | Event 1 | Law Tac |
| 612 | 264 | D | OPD Event 2 | Event 2 | Law Tac |
| 613 | 265 | D | OPD Event 3 | Event 3 | Law Tac |
| 614 | 266 | D | OPD Event 4 | Event 4 | Law Tac |
| 615 | 267 | D | OPD Event 5 | Training 1 | Law Tac |
| 616 | 268 | D | OPD Event 6 | Training 2 | Law Tac |
| 617 | 269 | D | OPD LE Evt 1 | LE Event 1 | Law Tac |
| 618 | 26a | D | OPD LE Evt 2 | LE Event 2 | Law Tac |
| 619 | 26b | D | OPD LE Evt 3 | LE Event 3 | Law Tac |
| 620 | 26c | D | OPD LE Evt 4 | LE Event 4 | Law Tac |
| 682 | 2aa | D | OPD Event 5 | Event 5 | Law Tac |
| 648 | 288 | D | OPD TrafEvt1 | Traffic Event 1 | Law Tac |
| 649 | 289 | D | OPD TrafEvt2 | Traffic Event 2 | Law Tac |
| 626 | 272 | DE | OPD ERU 1 | ERU 1 | Law Tac |
| 627 | 273 | DE | OPD ERU 2 | ERU 2 | Law Tac |
| 628 | 274 | DE | OPD ERU 3 | ERU 3 | Law Tac |
| 631 | 277 | D | OPD Joint 1 | Joint 1 | Law Tac |
| 632 | 278 | DE | OPD Joint 2 | Joint 2 | Law Tac |
| 661 | 295 | DE | OPD Narc 1 | Narcotics 1 | Law Tac |
| 662 | 296 | DE | OPD Narc 2 | Narcotics 2 | Law Tac |
| 663 | 297 | DE | OPD Narc 3 | Narcotics 3 | Law Tac |
| 676 | 2a4 | D | OPD CrimeLab | Crime Lab | Law Tac |
| 112 | 070 | TE | OPD B1 NW Sec | Northwest Secure (B01) | Law Tac |
| 113 | 071 | TE | OPD B2 NE Sec | Northeast Secure (B02) | Law Tac |
| 114 | 072 | TE | OPD B3 SE Sec | Southeast Secure (B03) | Law Tac |
| 115 | 073 | TE | OPD B4 SW Sec | Southwest Secure (B04) | Law Tac |
| 118 | 076 | TE | OPD B5 West Sec | West Secure (B05) | Law Tac |
| 603 | 25b | D | OPD OCCP | Omaha Coalition of Citizens Patrol | Law Tac |
| 608 | 260 | D | OPD OCCP | Omaha Coalition of Citizens Patrol | Law Tac |
| 637 | 27d | D | OPD OCCP | Omaha Coalition of Citizens Patrol | Law Tac |
| 638 | 27e | D | OPD OCCP | Omaha Coalition of Citizens Patrol | Law Tac |
| 639 | 27f | D | OPD OCCP | Omaha Coalition of Citizens Patrol | Law Tac |
| 640 | 280 | D | OPD OCCP | Omaha Coalition of Citizens Patrol | Law Tac |
| 227 | 0e3 | D | MCC Police | Metropolitan Community College Police | Law Dispatch |
| 629 | 275 | DE | OPD ? 6 | Unid | Law Tac |
| 630 | 276 | D | OPD ? 6 | Unid | Law Tac |
| 633 | 279 | D | OPD Ch D1 | D01 Unknown Use | Law Tac |
| 641 | 281 | DE | OPD ? 641 | Unid | Law Tac |
| 642 | 282 | DE | OPD ? 642 | Unid | Law Tac |
| 643 | 283 | DE | OPD ? 643 | Unid | Law Tac |
| 644 | 284 | DE | OPD ? 644 | Unid | Law Tac |
| 645 | 285 | DE | OPD ? 645 | Unid | Law Tac |
| 646 | 286 | DE | OPD ? 646 | Unid | Law Tac |
| 652 | 28c | D | OPD ? 652 | Unid | Law Tac |
| 653 | 28d | D | OPD ? 653 | Unid | Law Tac |
| 689 | 2b1 | D | OPD ? 689 | Unid | Law Tac |
Omaha - Public Works Talkgroups
| DEC | HEX | Mode | Alpha Tag | Description | Tag |
| --- | --- | --- | --- | --- | --- |
| 354 | 162 | D | OPW | Public Works | Public Works |
| 773 | 305 | D | OPW Supervisors | Supervisors | Public Works |
| 772 | 304 | D | OPW M Event 1 | Maintenance Event 1 | Public Works |
| 768 | 300 | D | OPW M Event 2 | Maintenance Event 2 | Public Works |
| 774 | 306 | D | OPW M Event 3 | Maintenance Event 3 | Public Works |
| 775 | 307 | D | OPW M Event 4 | Maintenance Event 4 | Public Works |
| 776 | 308 | D | OPW M Event 5 | Maintenance Event 5 | Public Works |
| 781 | 30d | D | OPW Event 1 | Event 1 | Public Works |
| 782 | 30e | D | OPW Event 2 | Event 2 | Public Works |
| 783 | 30f | D | OPW Event 3 | Event 3 | Public Works |
| 784 | 310 | D | OPW Event 4 | Event 4 | Public Works |
| 785 | 311 | D | OPW Event 5 | Event 5 | Public Works |
| 136 | 088 | D | OPW Snowplow | Snowplows | Public Works |
| 165 | 0a5 | D | OPW Sanitation | Sanitation | Public Works |
| 769 | 301 | D | OPW Streets | Street Department | Public Works |
| 770 | 302 | D | OPW Sewer | Sewer Maintenance | Public Works |
| 771 | 303 | D | OPW Traffic | Traffic Signal Maintenance | Public Works |
| 777 | 309 | D | OPW Construction | Construction | Public Works |
| 778 | 30a | D | OPW Q Control | Quaility Control | Public Works |
| 779 | 30b | D | OPW Project 1 | Project 1 | Public Works |
| 780 | 30c | D | OPW Project 2 | Project 2 | Public Works |
Ponca Hills Talkgroups
| DEC | HEX | Mode | Alpha Tag | Description | Tag |
| --- | --- | --- | --- | --- | --- |
| 370 | 172 | D | Ponca Hills Fire | Fire (B04) | Fire-Tac |
Ralston Talkgroups
Ralston is located in Douglas County, Nebraska
| DEC | HEX | Mode | Alpha Tag | Description | Tag |
| --- | --- | --- | --- | --- | --- |
| 59 | 03b | D | Ralston LE/FD | LE/FD | Multi-Tac |
| 60 | 03c | D | Ralston Police | Police | Law Tac |
| 61 | 03d | D | Ralston DPW | Ralston Public Works | Public Works |
| 137 | 089 | D | Ralston DPW 14 | Public Works 14 | Public Works |
| 219 | 0db | D | EMS to BMH | EMS to Bergan Mercy Hospital | Hospital |
Valley Talkgroups
| DEC | HEX | Mode | Alpha Tag | Description | Tag |
| --- | --- | --- | --- | --- | --- |
| 62 | 03e | D | Valley Police | Police (A12) | Law Dispatch |
| 63 | 03f | D | Valley Event 1 | Event 1 (A13) | Multi-Tac |
| 64 | 040 | D | Valley Event 2 | Event 2 (A14) | Multi-Tac |
Waterloo Talkgroups
| DEC | HEX | Mode | Alpha Tag | Description | Tag |
| --- | --- | --- | --- | --- | --- |
| 68 | 044 | D | Waterloo FD/LE | Fire/LE (B06) | Multi-Tac |
| 69 | 045 | DE | Waterloo Event 1 | Event 1 | Multi-Talk |
| 70 | 046 | DE | Waterloo Event 2 | Event 2 | Multi-Talk |
Pottawattamie County Talkgroups
| DEC | HEX | Mode | Alpha Tag | Description | Tag |
| --- | --- | --- | --- | --- | --- |
| 2574 | a0e | D | PC Countywide | Countywide | Interop |
| 2501 | 9c5 | D | PCSO 1 Disp | Sheriff 1 Dispatch | Law Dispatch |
| 2502 | 9c6 | T | PCSO 2 Records | Sheriff 2 Records | Law Talk |
| 2503 | 9c7 | D | PCSO CIB | Sheriff CIB | Law Tac |
| 2031 | 7ef | D | PC MVly Hosp | D14 Mo Valley Hospital | Hospital |
| 2543 | 9ef | D | PC Helo GC | A12 Helo GC | EMS-Tac |
| 2570 | a0a | D | PC Common 1 | C01 Common 1 | Interop |
| 2571 | a0b | D | PC Common 2 | C02 Common 2 | Interop |
| 2572 | a0c | D | PC Common 3 | C03 Common 3 | Interop |
| 2573 | a0d | D | PC Event | Event | Interop |
| 2575 | a0f | D | PC Emergency | Emergency | Emergency Ops |
| 2701 | a8d | D | PC LEA Glnwd | LEA Glenwood | Law Talk |
| 2702 | a8e | D | PC LEA Atlan | LEA Atlantic | Law Talk |
| 2703 | a8f | D | PC StateFire | A13 State Fire (154.280) | Fire-Talk |
| 2704 | a90 | D | PC Reg EMS | A14 Regional EMS (155.340) | EMS-Tac |
| 2705 | a91 | D | PC Iowa M/A | A15 Iowa Mutual Aid (155.475) | Law Talk |
| 2706 | a92 | D | PC Pnt/Pnt | Point to Point (155.370) | Law Talk |
| 2760 | ac8 | D | PC C/W B02 | B02 County Wide Block 1 | Interop |
| 2761 | ac9 | D | PC C/W B03 | B03 County Wide | Interop |
| 2762 | aca | D | PC C/W B04 | B04 County Wide | Interop |
| 2763 | acb | D | PC C/W B05 | B05 County Wide Block 2 | Interop |
| 2764 | acc | D | PC C/W B06 | B06 County Wide | Interop |
| 2765 | acd | D | PC C/W B07 | B07 County Wide | Interop |
| 2766 | ace | D | PC C/W B08 | B08 County Wide Block 3 | Interop |
| 2767 | acf | D | PC C/W B09 | B09 County Wide | Interop |
| 2768 | ad0 | D | PC C/W B10 | B10 County Wide | Interop |
| 2769 | ad1 | D | PC C/W B11 | B11 County Wide Block 4 | Interop |
| 2770 | ad2 | D | PC C/W B12 | B12 County Wide | Interop |
| 2771 | ad3 | D | PC C/W B13 | B13 County Wide | Interop |
| 2546 | 9f2 | D | PCFD 1 East Ops | Fire East Operations | Fire-Tac |
| 2547 | 9f3 | D | PCFD E Talk | Fire East Talk | Fire-Talk |
| 2555 | 9fb | D | PCFD Group 5 | Fire Group 5 | Fire-Tac |
| 2556 | 9fc | D | PCFD Group 6 | Fire Group 6 | Fire-Tac |
| 2601 | a29 | D | PCFD Group 7 | Fire Group 7 | Fire-Tac |
| 2602 | a2a | D | PCFD Group 8 | Fire Group 8 | Fire-Tac |
| 2603 | a2b | D | PCFD Group 9 | Fire Group 9 | Fire-Tac |
| 2604 | a2c | D | PCFD Group10 | Fire Group 10 | Fire-Tac |
| 2615 | a37 | D | PCFD Training 2 | Training 2 | Fire-Tac |
| 2616 | a38 | D | PCFD Training 3 | Training 3 | Fire-Tac |
| 2617 | a39 | D | PCFD Training 4 | Training 4 | Fire-Tac |
| 2618 | a3a | D | PCFD Training 5 | Training 5 | Fire-Tac |
| 2619 | a3b | D | PCFD Training 6 | Training 6 | Fire-Tac |
| 2620 | a3c | D | PCFD Training 7 | Training 7 | Fire-Tac |
| 2621 | a3d | D | PCFD Training 8 | Training 8 | Fire-Tac |
| 2622 | a3e | D | PCFD Training 9 | Training 9 | Fire-Tac |
| 2623 | a3f | D | PCFD Training 10 | Training 10 | Fire-Tac |
| 2624 | a40 | D | PCFD Training 11 | Training 11 | Fire-Tac |
| 2625 | a41 | D | PCFD Training 12 | Training 12 | Fire-Tac |
| 2576 | a10 | D | PCFD 911 | 911 Fire | Fire-Talk |
| 2522 | 9da | D | PC EMA WX Spot | EMA Weather Spotters | Emergency Ops |
| 2523 | 9db | D | PC Conservation1 | Conservation 1 | Public Works |
| 2524 | 9dc | D | PC Conservation2 | Conservation 2 | Public Works |
| 2525 | 9dd | D | PC Conservation3 | Conservation 3 | Public Works |
| 2643 | a53 | D | PC Roads | Roads Department | Public Works |
Carter Lake Talkgroups
| DEC | HEX | Mode | Alpha Tag | Description | Tag |
| --- | --- | --- | --- | --- | --- |
| 2536 | 9e8 | D | CL Public Works | Public Works | Public Works |
Council Bluffs Talkgroups
| DEC | HEX | Mode | Alpha Tag | Description | Tag |
| --- | --- | --- | --- | --- | --- |
| 2551 | 9f7 | T | CB PD Dispatch | Police Dispatch | Law Dispatch |
| 2552 | 9f8 | D | CB PD Info | Police Information | Law Talk |
| 2565 | a05 | D | CB Fire | Fire | Fire Dispatch |
| 340 | 154 | D | Jenny Edmonds | Jennie Edmundson Hospital | Hospital |
| 2660 | a64 | D | CB Public Works | Public Works | Public Works |
| 2685 | a7d | D | CB Animal Contrl | Animal Control | Public Works |
Sarpy County Talkgroups
Sarpy County built out their own P25 system, and has since merged and intergrated with ORION. Talkgroups and the simulcast site merged 11/22/2019
| DEC | HEX | Mode | Alpha Tag | Description | Tag |
| --- | --- | --- | --- | --- | --- |
| 4018 | fb2 | D | SarpyCo Common 1 | Common 1 | Multi-Tac |
| 4019 | fb3 | D | SarpyCo Common 2 | Common 2 | Multi-Tac |
| 4020 | fb4 | D | SarpyCo Event 1 | Event 1 | Multi-Tac |
| 4021 | fb5 | D | SarpyCo Event 2 | Event 2 | Multi-Tac |
| 4022 | fb6 | D | SarpyCo Event 3 | Event 3 | Multi-Tac |
| 4023 | fb7 | D | SarpyCo Event 4 | Event 4 | Multi-Tac |
| 4024 | fb8 | D | SarpyCo Event 5 | Event 5 | Multi-Tac |
| 4001 | fa1 | T | SarpyCo LE East | Law Enforcement East | Law Dispatch |
| 4202 | 106a | DE | SarpyCo LE EastE | Law Enforcement East Secure | Law Talk |
| 4003 | fa3 | T | SarpyCo LE West | Law Enforcement West | Law Dispatch |
| 4254 | 109e | DE | SarpyCo LE WestE | Law Enforcement West Secure | Law Talk |
| 4004 | fa4 | D | SarpyCo LE Comm1 | Law Enforcement Common 1 | Law Tac |
| 4015 | faf | D | SarpyCo LE Comm2 | Law Enforcement Common 2 | Law Tac |
| 4002 | fa2 | DE | SarpyCo LE Recrd | Law Enforcement Records/Information | Law Talk |
| 4042 | fca | D | SarpySO Tac 1 | Sheriff Tac 1 | Law Tac |
| 4209 | 1071 | DE | SarpySO Tac 2 | Sheriff Tac 2 | Law Tac |
| 4046 | fce | D | SarpySO CARE 1 | Sheriff Care 1 | Law Talk |
| 4012 | fac | DE | SarpySO Jail | Sheriff Jail | Corrections |
| 4048 | fd0 | D | SarpySO CourtSec | Sheriff Court Security | Security |
| 4170 | 104a | D | SarpySO JJC | Sheriff Juvenile Justice Center | Corrections |
| 4049 | fd1 | D | SarpyCo FD East | Fire East | Fire Dispatch |
| 4050 | fd2 | D | SarpyCo FD West | Fire West | Fire Dispatch |
| 4061 | fdd | D | SarpyCo FD 16 | Fire Tac 16 | Fire-Tac |
| 4093 | ffd | D | SarpyCo FD 18 | Fire Tac 18 | Fire-Tac |
| 4088 | ff8 | D | SarpyCo FD 22 | Fire Tac 22 | Fire-Tac |
| 4077 | fed | D | SarpyCo FD 24 | Fire Tac 24 | Fire-Tac |
| 4250 | 109a | De | SarpyCo FD Ops 1 | Fire Ops 1 Secure | Fire-Talk |
| 4090 | ffa | D | SarpyCo FD Train | Fire Training | Fire-Talk |
| 4177 | 1051 | D | SarpyCo FD Trng | Fire Training | Fire-Talk |
| 4178 | 1052 | D | SarpyCo FD Trng | Fire Training | Fire-Talk |
| 4129 | 1021 | D | SarpyCo Pub Wrks | Public Works | Public Works |
| 4151 | 1037 | D | SarpyCo Test 1 | Radio Testing 1 | Public Works |
| 4152 | 1038 | D | SarpyCo Test 2 | Radio Testing 2 | Public Works |
Bellevue Talkgroups
| DEC | HEX | Mode | Alpha Tag | Description | Tag |
| --- | --- | --- | --- | --- | --- |
| 4007 | fa7 | D | Bellevue PD Tac1 | Police Tac 1 | Law Tac |
| 4225 | 1081 | DE | Bellevue PD 16 | Police 16 | Law Talk |
| 4186 | 105a | D | Bellevue FD Sta1 | Fire Station 1 | Fire Dispatch |
| 4187 | 105b | D | Bellevue FD Sta2 | Fire Station 2 | Fire Dispatch |
| 4188 | 105c | D | Bellevue FD Sta3 | Fire Station 3 | Fire Dispatch |
| 4189 | 105d | D | Bellevue FD Sta4 | Fire Station 4 | Fire Dispatch |
| 4195 | 1063 | D | Bellevue FD Supv | Fire Supervisors | Fire-Talk |
| 4009 | fa9 | D | Bellevue FD BC | Fire Battalion Chief | Fire-Talk |
| 4059 | fdb | D | Bellevue Med Ctr | Bellevue Medical Center | Hospital |
| 4096 | 1000 | D | Bellevue Streets | Streets | Public Works |
| 4100 | 1004 | D | Bellevue HSD | Human Service Division | Public Works |
| 4183 | 1057 | D | Bellevue CodeEnf | Code Enforcement | Public Works |
| 4097 | 1001 | D | Bellevue PubWrks | Public Works | Public Works |
| 4098 | 1002 | D | Bellevue Water | Public Works Water/Sewer | Utilities |
| 4145 | 1031 | T | Bellevue Sch Bus | School Bus | Schools |
La Vista Talkgroups
| DEC | HEX | Mode | Alpha Tag | Description | Tag |
| --- | --- | --- | --- | --- | --- |
| 4038 | fc6 | D | LaVista PD Tac 1 | Police Tactical 1 | Law Tac |
| 4120 | 1018 | D | LaVista Pub Wrks | Public Works | Public Works |
| 4207 | 106f | DE | LaVista PD Tac 2 | Police Tactical 2 | Law Tac |
| 4037 | fc5 | D | La Vista Citywd | Citywide | Multi-Tac |
Papillion Talkgroups
| DEC | HEX | Mode | Alpha Tag | Description | Tag |
| --- | --- | --- | --- | --- | --- |
| 4032 | fc0 | D | Papillion PD T1 | Police Tac 1 | Law Tac |
| 4205 | 106d | DE | Papillion PD T2 | Police Tac 2 | Law Talk |
| 4190 | 105e | D | Papillion FD St1 | Fire Station 1 | Fire Dispatch |
| 4191 | 105f | D | Papillion FD St2 | Fire Station 2 | Fire Dispatch |
| 4192 | 1060 | D | Papillion FD St3 | Fire Station 3 | Fire Dispatch |
| 4193 | 1061 | D | Papillion FD St4 | Fire Station 4 | Fire Dispatch |
| 4031 | fbf | D | Papillion Citywd | Citywide | Multi-Tac |
| 4054 | fd6 | D | CHI Midlands | CHI Midlands | Hospital |
| 4110 | 100e | D | PapillionPubWrks | Public Works (Streets/Water/Sewer) | Public Works |
Washington County Talkgroups
| DEC | HEX | Mode | Alpha Tag | Description | Tag |
| --- | --- | --- | --- | --- | --- |
| 2001 | 7d1 | T | WC LE 1 Disp | Law Enforcement Dispatch | Law Dispatch |
| 2002 | 7d2 | D | WC LE 2 Tac | Law Enforcement Tactical | Law Tac |
| 2003 | 7d3 | TE | WC LE 3 ENC | Law Enforcement Secure | Law Tac |
| 2004 | 7d4 | T | WCSO Jail | Sheriff Jail | Corrections |
| 2005 | 7d5 | D | WCSO Court Sec | Sheriff Courthouse Security | Security |
| 2108 | 83c | DE | WC Secure | County Secure | Law Tac |
| 2020 | 7e4 | D | WCSO Traffic | Sheriff Traffic | Law Tac |
| 2007 | 7d7 | D | WC Fire/LE | Fire/LE | Multi-Tac |
| 2011 | 7db | D | WC 911 | County 911 | Emergency Ops |
| 2049 | 801 | D | WCFD Disp | Fire Dispatch | Fire Dispatch |
| 2050 | 802 | D | WCFD F/G 1 | Fireground 2 | Fire-Tac |
| 2051 | 803 | D | WCFD F/G 2 | Fireground 3 | Fire-Tac |
| 2052 | 804 | D | WCFD F/G 3 | Fireground 4 | Fire-Tac |
| 2057 | 809 | D | WCFD Tankers | Tanker Ops | Fire-Tac |
| 2053 | 805 | D | WCFD Train 1 | Fire Training 1 | Fire-Tac |
| 2054 | 806 | T | WCFD FG6/Train 2 | Fireground 6/Training 2 | Fire-Tac |
| 2055 | 807 | D | WCFD Train 3 | Fire Training 3 | Fire-Tac |
| 2056 | 808 | D | WCFD MedHelo | Med Helo | EMS-Talk |
| 2044 | 7fc | D | WCFD Kennard | Kennard Fire Admin | Fire-Tac |
| 2012 | 7dc | D | WC EmergMgmt | Emergency Management | Emergency Ops |
| 2014 | 7de | D | WC Common 1 | County Common 1 | Multi-Tac |
| 2015 | 7df | D | WC Common 2 | County Common 2 | Multi-Tac |
| 2016 | 7e0 | D | WC Common 3 | County Common 3 | Multi-Tac |
| 2017 | 7e1 | D | WC Common 4 | County Common 4 | Multi-Tac |
| 2025 | 7e9 | D | WC CountyGov | County Government | Public Works |
| 2024 | 7e8 | D | WC Roads | County Roads | Public Works |
| 2023 | 7e7 | D | Her/Ken Util | E04 Herman / Kennard Utilities | Utilities |
| 2026 | 7ea | D | WC Util Cmn | E07 County Utilities Common | Utilities |
| 2065 | 811 | D | WC Schls Cmn | Washington County Schools Common | Schools |
| 2063 | 80f | D | H/I Schools | Herman / Immanuel Schools | Schools |
Arlington Talkgroups
| DEC | HEX | Mode | Alpha Tag | Description | Tag |
| --- | --- | --- | --- | --- | --- |
| 2040 | 7f8 | D | Arlington FD Adm | Fire Administration | Fire-Tac |
| 2021 | 7e5 | D | Arlington Util | Utilities | Utilities |
| 2060 | 80c | D | Arlington School | Arlington / St Paul Schools | Schools |
Blair Talkgroups
| DEC | HEX | Mode | Alpha Tag | Description | Tag |
| --- | --- | --- | --- | --- | --- |
| 2101 | 835 | D | Blair Police | Police | Law Tac |
| 2006 | 7d6 | D | Blair Police Trf | Police Traffic | Law Tac |
| 2013 | 7dd | D | Blair Utilities | Utilities | Utilities |
| 2061 | 80d | D | Blair Sch Admin | School Administration | Schools |
| 2062 | 80e | DE | Blair Sch Transp | School Transportation | Schools |
Fort Calhoun Talkgroups
| DEC | HEX | Mode | Alpha Tag | Description | Tag |
| --- | --- | --- | --- | --- | --- |
| 2042 | 7fa | D | FtC FD Admin | Fire Administration | Fire-Tac |
| 2022 | 7e6 | D | FtC Utilities | Utilities | Utilities |
| 2070 | 816 | D | FtC Sch Disp | School Dispatch | Schools |
Offutt Air Force Base Talkgroups
| DEC | HEX | Mode | Alpha Tag | Description | Tag |
| --- | --- | --- | --- | --- | --- |
| 339 | 153 | T | Erling Berquist | Erling Berquist Clinic | Hospital |
Hospitals Talkgroups
| DEC | HEX | Mode | Alpha Tag | Description | Tag |
| --- | --- | --- | --- | --- | --- |
| 331 | 14b | D | Creighton | Creighton | Hospital |
| 332 | 14c | D | Nebraska Medicin | Nebraska Medicine | Hospital |
| 333 | 14d | D | Bergan Mercy | Bergan Mercy | Hospital |
| 334 | 14e | D | Methodist | D06 Methodist | Hospital |
| 335 | 14f | D | Children's | D07 Children's | Hospital |
| 336 | 150 | D | Immanuel | D08 Immanuel | Hospital |
| 337 | 151 | D | Lakeside | D09 Lakeside | Hospital |
| 338 | 152 | D | Midlands | D10 Midlands | Hospital |
| 382 | 17e | D | Clarkson | D04 Clarkson | Hospital |
| 383 | 17f | D | Mercy | E04 Mercy | Hospital |
| 384 | 180 | D | Blair | E05 Blair | Hospital |
| 385 | 181 | D | Fremont | E06 Fremont | Hospital |
| 386 | 182 | D | Hosp Common | D11 Hospital Common | Hospital |
| 402 | 192 | D | Alegent Hlth | Alegent Health System | Hospital |
| 403 | 193 | D | Methodist | Methodist Hospital | Hospital |
| 404 | 194 | D | Nebraska Medical | Nebraska Medical Center | Hospital |
| 406 | 196 | D | VA | VA Medical Center | Hospital |
| 407 | 197 | D | Methodist W | Methodist Women's Hospital | Hospital |
Metro Transit Talkgroups
Metro Transit operates Omaha-Council Bluffs metropolitan area including Bellevue, Ralston, LaVista and Papillion
| DEC | HEX | Mode | Alpha Tag | Description | Tag |
| --- | --- | --- | --- | --- | --- |
| 806 | 326 | D | DC MAT 1 | MAT 1 | Transportation |
| 807 | 327 | D | DC MAT 2 | MAT 2 | Transportation |
| 808 | 328 | T | DC MAT 3 | MAT 3 | Transportation |
| 809 | 329 | D | DC MAT 4 | MAT 4 | Transportation |
| 802 | 322 | D | DC MAT Traff | Traffic (Dispatcher to regular route buses) | Transportation |
| 803 | 323 | D | DC MAT Moby | Moby (Paratransit vans and smaller buses) | Transportation |
| 804 | 324 | D | DC MAT Maint | Maintenance | Transportation |
| 805 | 325 | D | DC MAT Supv | Supervisors | Transportation |
| 810 | 32a | D | DC MAT Emerg | Emergency | Transportation |
Metropolitan Utilities District Talkgroups
| DEC | HEX | Mode | Alpha Tag | Description | Tag |
| --- | --- | --- | --- | --- | --- |
| 900 | 384 | D | MUD Ops 900 | Operations | Utilities |
| 901 | 385 | D | MUD Ops 901 | Operations | Utilities |
| 903 | 387 | T | MUD Security | Security | Security |
Omaha Public Power District Talkgroups
| DEC | HEX | Mode | Alpha Tag | Description | Tag |
| --- | --- | --- | --- | --- | --- |
| 1501 | 5dd | D | OPPD Disp 1 | Dispatch 1 (Metro) | Utilities |
| 1502 | 5de | D | OPPD Disp 2 | Dispatch 2 (South Rural) | Utilities |
| 1503 | 5df | D | OPPD Omaha | Omaha Center | Utilities |
| 1504 | 5e0 | D | OPPD OmaStrm | Storm - Omaha | Utilities |
| 1505 | 5e1 | D | OPPD OmaWire | Wire Down Omaha | Utilities |
| 1506 | 5e2 | D | OPPD Papilln | Papillion Center | Utilities |
| 1507 | 5e3 | D | OPPD PapStrm | Storm - Papillion | Utilities |
| 1508 | 5e4 | D | OPPD PapWire | Wire Down Papillion | Utilities |
| 1509 | 5e5 | D | OPPD Syracus | Syracuse Office | Utilities |
| 1510 | 5e6 | D | OPPD Ashland | Ashland Office | Utilities |
| 1511 | 5e7 | D | OPPD Louisvl | Louisville Office | Utilities |
| 1512 | 5e8 | D | OPPD Tecumsh | Tecumseh Office | Utilities |
| 1513 | 5e9 | D | OPPD Humbold | Humboldt Office | Utilities |
| 1514 | 5ea | D | OPPD Elkhorn | Elkhorn Center | Utilities |
| 1515 | 5eb | D | OPPD Blair | Blair Office | Utilities |
| 1516 | 5ec | D | OPPD N Bend | North Bend Office | Utilities |
| 1517 | 5ed | T | OPPD Trouble | Trouble Desk | Utilities |
| 1518 | 5ee | D | OPPD DistSvc | Distribution Services | Utilities |
| 1519 | 5ef | D | OPPD Meter | Metering | Utilities |
| 1520 | 5f0 | D | OPPD Misc | Miscellaneous (Substations) | Utilities |
| 1521 | 5f1 | D | OPPD Work 1 | Work Channel 1 (Omaha) | Utilities |
| 1522 | 5f2 | D | OPPD Work 2 | Work Channel 2 (Papillion) | Utilities |
| 1523 | 5f3 | D | OPPD Work 3 | Work Channel 3 (Syracuse) | Utilities |
| 1524 | 5f4 | D | OPPD Work 4 | Work Channel 4 (Elkhorn) | Utilities |
| 1525 | 5f5 | D | OPPD Work 5 | Work Channel 5 (Spare) | Utilities |
| 1531 | 5fb | D | OPPD LCrews? | Line Crews? | Utilities |
| 1541 | 605 | D | OPPD Sec1541 | Security 1541 | Security |
| 1546 | 60a | D | OPPD Sec1546 | Security 1546 | Security |
| 1548 | 60c | D | OPPD Sec1548 | Security 1548 | Security |
| 1552 | 610 | D | Ft Calhoun IT | Fort Calhoun Station - Information Technology | Utilities |
| 1559 | 617 | D | OPPD En Mktg | Energy Marketing | Utilities |
| 1561 | 619 | D | OPPD Disp | Dispatch | Utilities |
| 1562 | 61a | De | Ft Calhoun SEC 1 | Fort Calhoun Station - Security 1 | Security |
| 1563 | 61b | De | Ft Calhoun SEC 2 | Fort Calhoun Station - Security 2 | Security |
| 1565 | 61d | D | Ft Calhoun Ops | Fort Calhoun Station - Operations | Utilities |
| 1566 | 61e | D | Ft Calhoun Maint | Fort Calhoun Station - Maintenance | Utilities |
| 1570 | 622 | D | Ft Calhoun Ops | Fort Calhoun Station - Operations | Utilities |
| 1575 | 627 | D | OPPD Sec1575 | Security 1575 | Security |
Miscellaneous Talkgroups
| DEC | HEX | Mode | Alpha Tag | Description | Tag |
| --- | --- | --- | --- | --- | --- |
| 210 | 0d2 | D | LifeNet Helo | Air Methods (LifeNet) | EMS Dispatch |
| 675 | 2a3 | D | Media? 675 | News Media? | Media |
| 701 | 2bd | D | Neb NatGuard | Nebraska National Guard | Military |
| 702 | 2be | D | NSP Troop A | Nebraska State Patrol Troop A Dispatch | Law Dispatch |
Radio Maintenance Talkgroups
| DEC | HEX | Mode | Alpha Tag | Description | Tag |
| --- | --- | --- | --- | --- | --- |
| 1001 | 3e9 | D | ORION Radio 1 | Radio Maintenance 1 | Public Works |
| 1002 | 3ea | D | ORION Radio 2 | Radio Maintenance 2 | Public Works |
| 1003 | 3eb | D | ORION Radio 3 | Radio Maintenance 3 | Public Works |
| 1004 | 3ec | D | ORION Radio 4 | Radio Maintenance 4 | Public Works |
| 1005 | 3ed | D | ORION Radio 5 | Radio Maintenance 5 | Public Works |