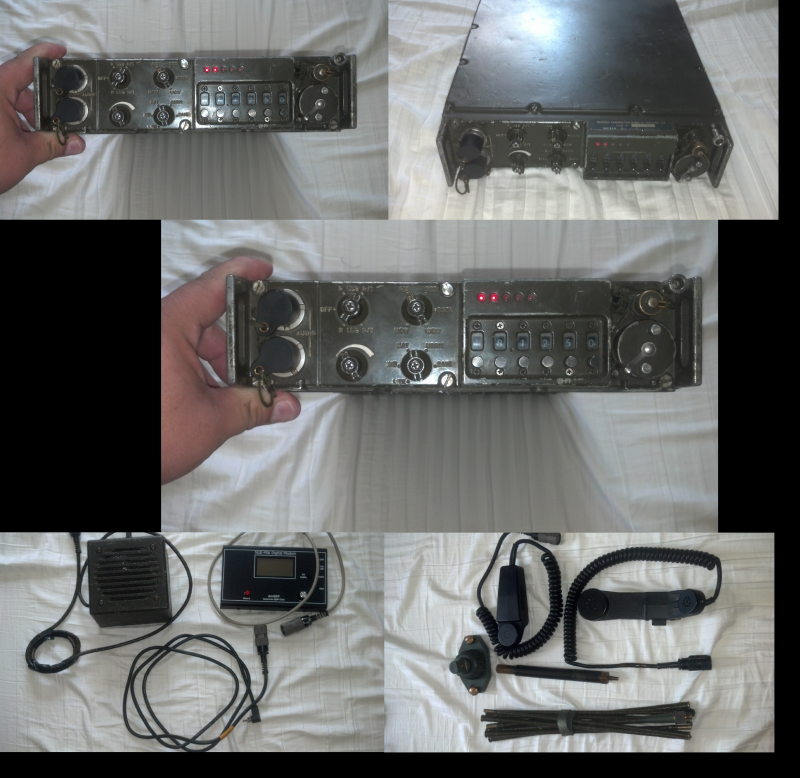 PRC-174
2-30mhz
USB-LBS-AM-CW-DATA modes
20m out
Front antenna port for wire atnennas
Dial frequency, set mode and go. radio has a auto antenna tuner that activates when you key up. Radio has one hot receiver. Tx audio has a good amount of punch. I have made many stateside and DX contacts with this radio.

This radio comes with:
radio
battery box (contains 2 SLA 4ah batteries)
24v charger
The nearly impossible to find swivel antnenna mount
Fiberglass whip antenna and base (base also fits 3/8x24 antennas like Hamsticks, those work far better on 80 and 40 than the supplied whip)
both mics pictured
external speaker
wire to hook up external DSP speaker (rca end)
Nue-Psk Digital module and cable(computerless psk, cw, rtty)
(basically everything you see in the pictures plus the charger (not pictured)


Eham Reviews: http://www.eham.net/reviews/detail/8965



For all of it asking $1250 shipped to lower 48. (or REASONABLE offer) I'll take money orders and I'll take checks but only if drawn on Wells Fargo or Bank Of America (checks have to clear prior to shipment) I'll take cash too either face to face or fedex overnight if you dare (not reccomended) Sorry NO paypal.
Video of actual radio being used http://www.youtube.com/watch?v=wLsh9Z8ACZc
(radio was on my kitchen table with whip only half extended due to space restrictions)
questions? email; Medic535a@gmail.com